March / April 2017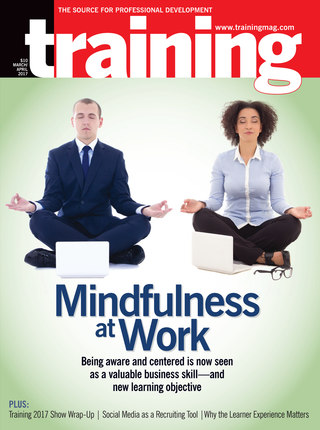 View Digital Edition
Each year Training magazine requires all Training Top 10 Hall of Famers to submit an Outstanding Training Initiative that is shared with our readers in a print issue. Here are the details of KPMG LLP's Audit New Hire Forum.
Training magazine taps 2017 Training Top 125 winners and Top 10 Hall of Famers to provide their learning and development best practices in each issue. Here, we look at Mariner Finance's onboarding strategy.
We create our own realities. It's our ultimate power, and our ultimate responsibility. In every moment, we choose how we want to live our lives and who we want to be, whether we realize it or not.
Learning & Development professionals explore new horizons at the Training 2017 Conference & Expo in San Diego, CA.
Social media provides a favorite pastime for many of us—including future employees of your company. Can it be used to build your workforce?
Once bounded by the duration and content of specific courses, the learner experience is growing to include the overall learning environment within the organization. That means efforts before, during, and after the training must be considered to help ensure learning can be sustained and retained.
Work routines become so ingrained in us, it's hard to change, but training yourself, and your employees, to instill better habits can create a more robust workforce.
Mindfulness long has been touted as a stress-relief tool. Is there a practical case for teaching all employees the ancient art of calming one's mind to address business objectives?