March / April 2019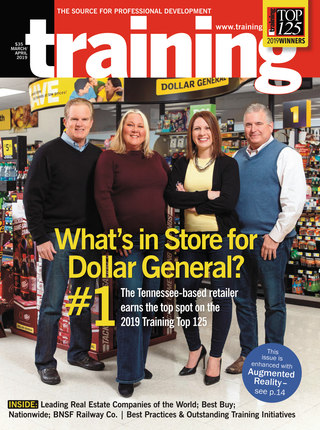 View Digital Edition
Training magazine taps 2019 Training Top 125 winners and Top 10 Hall of Famers to provide their learning and development best practices in each issue. Here, we look at how ADP leverages storytelling in training.
Trainers can use storytelling to explain information to learners in a way that entertains and sticks. Here's how.
Ultimately, effective facilitation is about asking questions to help learners reach a goal or produce a desired outcome.
A new study by Cerego finds that 80 of those who receive monthly training still crave more opportunities for development.
A study shows global business executives (CXOs) are more positive than chief learning officers (CLOs) about the value of learning and the extent to which there is a learning culture in their organizations.
Each year, Training magazine requires all Training Top 10 Hall of Famers to submit an Outstanding Training Initiative that is judged by each other and shared with our readers. Here are the three initiatives that achieved the highest scores, from Verizon, Booz Allen Hamilton, and Deloitte. The other 13 submissions will be profiled in the four remaining issues for 2019.
Training editors and Top 10 Hall of Famers recognize innovative and successful learning and development programs and practices submitted in the 2019 Training Top 125 application.
New technology that bolsters employee scheduling and safety, ramped-up recruitment, and a new LMS are just a few of the recent accomplishments keeping BNSF Railway Co. on track for success.
Nationwide is putting a premium on how to meet the rapidly evolving needs of its customers today and tomorrow. Its workforce Future Capability Model rests on two foundational learning components: "Live Our Values" and "Leverage Your Expertise."
Training technology and innovation have been game-changers for Best Buy as it implements its multi-year growth and customer experience strategy.