March / April 2019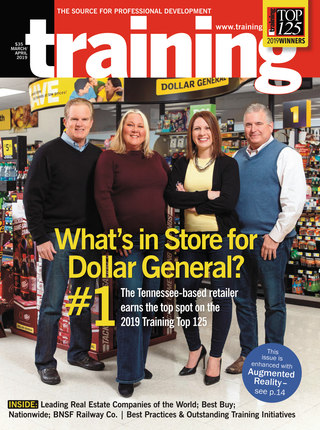 View Digital Edition
Training magazine's 19th annual ranking of the top companies with employer-sponsored workforce training and development.
How might you weave the things you feel you are best at—and, thus, enjoy the most—into what you have to do at work?
Understanding how to facilitate successful results between groups of people..
Smartphones have morphed into multimedia creation, receiving, and learning devices that allow learners to pull knowledge out of thin air anywhere, anytime.
When we co-opt terms from another field, we risk misrepresenting or misapplying them. It is better to deconstruct what is being done in other fields and consider how core principles may creatively enhance learning experiences.
Considerable attention is being paid to the importance of diversity and inclusion in organizations, yet raising issues regarding power may be seen as a threat by those who benefit from existing power or privilege dynamics.
Technology adaptability is being willing to try your hand at any and all technology, without fear of failure.
Give employees expert knowledge anytime, anywhere by connecting their physical space to the digital world. Primarily through image recognition, an AR enhanced app will associate a marker, such as a sign for a machine, with any digital content or information a company wants to provide its workforce.
Think about the three types of participants you may encounter in training sessions—Voluntolds, Vacationers, and Eager Learners—and strive to make the subject matter relevant and beneficial for all.
Learning is not comfortable. But know that connecting with others who have made the leap into social media and blazed a path will make the adventure more fulfilling.