May / June 2012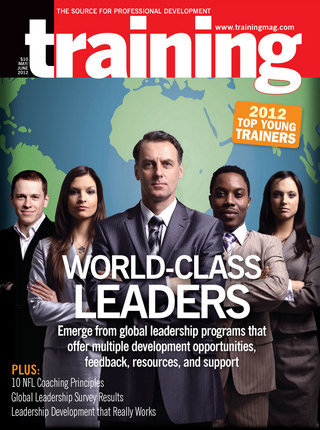 View Digital Edition
By Jason Womack, MEd, MA, Founder and CEO, The Jason Womack Company We love to read about life. We talk about what happened, who's doing what, and where people are going. One look at the newsstand in a bookstore or airport and the headlines of what people did compete for your attention!
By Chris LaVictoire Mahai In the animal world, the food chain is the most critical driving force. In the business world, it's the performance chain—defined as allthe tangibleand intangibleelements that have to move from the moment you trigger demand until you have cash in the bank; allthe ins and outs that have to work together and align to your target customer experience to drive the outcomes you want.
By Jim Hornickel, Director, Training & Development, Bold New Directions There are as many schools of thought about leadership as there are leaders. But in the larger view, one can say there are two basic types: leading "at" and leading "with." And these two opposite models or sets of comprising actions can be called "Command and Control" and "Consultative Leadership."
After reading the 100 Top Young Trainer nominations we received for 2012, I was awestruck by the commitment, passion, multitasking abilities, and willingness to help others demonstrated by these training professionals. If only I could bottle their energy, take-charge manner, and ability to get things done—I would be a very wealthy woman!
According to Stephen M.R. Covey and Greg Link, authors of "Smart Trust: Creating Prosperity, Energy, and Joy in a Low-Trust World," there are three primary reasons extending Smart Trust is smart:
By Jeff Kortes, President, Human Asset Management LLC
By Roy Saunderson, President, Recognition Management Institute Can we really produce leaders the way we've always done? Perhaps therein lies the answer to our emerging shortage of talent and the void of succession planning, especially as many senior leaders begin to depart the workforce. We can't keep doing the same leadership development if we want real leaders for tomorrow.
Sometimes the absence of change can herald change on the horizon—and that just may be the case when it comes to creation of global leadership development programs. The percentage of companies that have implemented global leadership development programs has remained the same since 2010, according to the third annual Developing Successful Global Leaders Studyconducted by Trainingmagazine, the American Management Association (AMA), and The Institute for Corporate Productivity (i4cp). But the key here is that the figure (31 percent) did not decline.
By Tony O'Driscoll, Executive Director, Center for Technology, Entertainment, and Media (CTEM), Duke University's Fuqua School of Business On February 16, 2011, a computer named Watson beat Ken Jennings, the all-time money winner and record holder for the longest winning streak on game show Jeopardy! On February 1, 2012, Facebook, having crossed a threshold of more than 800 million users, filed for an IPO that has been projected to put a $75 billion to $100 billion valuation on the company that was founded less than 10 years ago.
By Lorri Freifeld Supercharged. High-performers. Leaders of the pack. No, we aren't talking about the latest racecars. We're talking about Trainingmagazine's 2012 Top Young Trainers—those high-potential training professionals who are on the fast track to success.