May / June 2012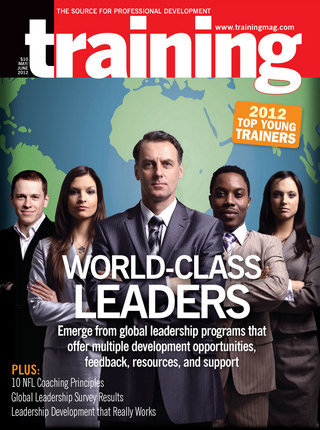 View Digital Edition
>>Meridian Knowledge Solutions' new version of its learning management system (LMS) now includes Meridian Social, an array of online tools for extending informal learning across an organization. The Meridian Global LMS, which delivers and analyzes the impact of online learning, is part of Meridian's human capital software platform.
>> Qumu, a business video platform provider, released the Qumu Video Control Center Professional Edition, a targeted solution for AV broadcast departments. The Qumu VCC Professional Edition is a central management system that allows editors to easily contribute, share, and track videos during the post-production process.
>> Cornerstone OnDemand, a provider of cloud-based talent management software solutions, forged a strategic relationship with Visier Inc., under which Visier's cloud-based workforce analytics and planning solutions now are available to Cornerstone clients. >> To find and acquire the people uniquely qualified to lead its global hospitality operation, Hyatt Hotels & Resorts now is combining the direct engagement of social networks with the insights enabled by Taleo Corporation solutions such as Taleo Recruiting.
Even with limited resources, you can provide effective leadership training for your team, says Mike Noble, managing partner at Camden Consulting Group. Here's how:
By Jason W. Womack, MEd, MA I'm curious: How do you judge a "productive" day as such? Is it defined by the number of e-mails you sent and received? Perhaps how many meetings you attended? It could even be how "early" you arrived home for dinner with your family. Before you leave work, for just the next five work days, stop and handwrite on a 3x5 notecard basic things about the day, such as:
According to Stephen M.R. Covey and Greg Link, authors of "Smart Trust: Creating Prosperity, Energy, and Joy in a Low-Trust World," there are three primary reasons extending Smart Trust is smart:
By Liggy Webb, Director, The Learning Architect Modern living is becoming increasingly challenging with a stress-related illness affecting more and more people. The challenges we face—including finding purpose, defining ourselves, and managing stress—are numerous and complex. The requirement to be more flexible and manage change is becoming increasingly important. A positive personal strategy can help each individual to cope better and improve resilience and confidence.