May / June 2013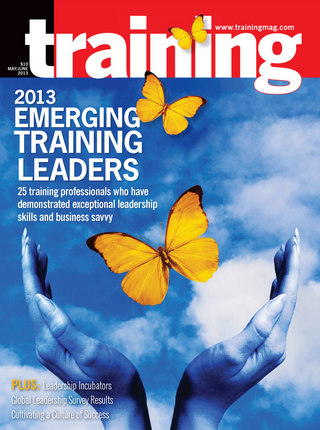 View Digital Edition
By Bob Pike CSP, CPAE, CPLP Fellow As I write this column, I'm working in Malaysia and Singapore. Trainers in this part of the world are eager to know how we do what we do in the United States. They are eager to improve and will invest the time it takes to acquire new skills and knowledge. Senior management made this quite clear at the beginning of my stay.
By Bruce Tulgan "Leadership development" may sound better, but our research shows that what's missing in the repertoires of 9 out of 10 leaders is consistent practice of the old-fashioned basics of management. There is so much work to be done by training professionals:
By Neal Goodman, Ph.D. We all have heard that being a great Bosshole is not genetic but learned. Still, I am certain that one day an MRI or some genetic research is going to find a malevolent gene or brain defect that causes BAD (Bosshole Abusiveness Disorder).
>> Rosetta Stone acquired Seattle-based Livemocha, one of the world's largest online language-learning communities, for $8.5 million in cash. Livemocha features a robust and extensible cloud-based learning platform and a community of more than 16 million members.
By Roy Saunderson As a child I loved going to the library and discovering new books that challenged my thinking. One book that stood out for me was "The Power of Positive Thinking" by the late Dr. Norman Vincent Peale. While it has a religious foundation to the principles highlighted in the book, it was the introduction for me to thinking more positively about my life and especially my work.
>> Third-party logistics provider LeanCor launched LeanCor Academy, an online professional training and education program. Facilitated in a virtual classroom, the first course, "Lean Leadership: Building the Lean Culture," is broken down into 16 one-hour self-paced modules, each followed by a knowledge assessment and application work.
By Anchalee Ngampornchai, Ph.D., and Jonathan Adams, Ed.D.
When Seattle-based work-force consulting company PeopleFirm was first recognized as one of the fastest growing companies in the state, all employees received iPads engraved with a personal thank you. The newest team members, some of whom had only been with the company for a month, were shocked. But this was all about rewarding the team for their outstanding efforts. Tenure, role, or level didn't matter. Being part of the PeopleFirm team is what counted.
By Frank Waltmann, Ph.D. This is the first of a three-part series of articles written exclusively for Trainingmagazine on business challenges and opportunities in Asia and how Swiss-based pharmaceuticals and life sciences company Novartis' learning and leadership development programs are helping address the myriad issues.
>> Panopto announced the latest version of its e-learning and video platform solution:Panopto 4.3. New features include failsafe recording, social enablement (including rich comments, community ratings, and video bookmarks), and a scalable platform (per-user analytics and an IT admin dashboard).