May / June 2013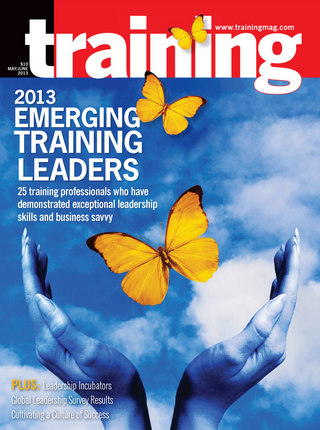 View Digital Edition
By Tony O'Driscoll In the latter half of 2012, my colleagues at Duke Corporate Education and I conducted interviews with 36 CEOs from around the globe to better understand what it takes to lead in an increasingly connected and complex business context.
LEADERSHIP DEVELOPMENT By Jeff Orlando and Karen Eber, Senior Managers, Leadership Development, Deloitte Services LP
While the number of organizations offering virtual work arrangements has increased from 35 to 45 percent over the last few years, a few notable companies recently have gone against the trend and banned working from home policies. These moves may lead more employers to reevaluate their own flexible work arrangements, says Aon Hewitt, the global human resource solutions business of Aon plc.
By Damian McKinney Early in Walmart's history, most store managers began their careers working at the register or another entry-level position. Through a gradual process of working their way up the corporate ladder, these employees were promoted to store manager in seven to 11 years. This process served the company and its employees well, providing a secure predictable career path and producing knowledgeable, loyal people at the middle-management level.
By Jason W. Womack, MEd, MA Would you like to get even more done each day? With just a little bit of forethought, there are two ways to build a productive mindset into your daily routine:
By Jane Bozarth In every group there are a minority of people who find better solutions to the challenges at hand…even though they have access to exactly the same resources as the rest of the group, their uncommon practices or behaviors allow them to flourish."—Jerry Sternin
More than 460 training and learning executives and practitioners gathered in Shanghai in April to attend Training magazine's first-ever conference in China, organized by Training's exclusive Chinese partner, ACT Group. The focus was "Taking E-Learning to the Next Level," through the expanded use of mobile and social learning and gamification. Speakers included mobile learning expert A.J.
By Bob Pike CSP, CPAE, CPLP Fellow As I write this column, I'm working in Malaysia and Singapore. Trainers in this part of the world are eager to know how we do what we do in the United States. They are eager to improve and will invest the time it takes to acquire new skills and knowledge. Senior management made this quite clear at the beginning of my stay.
By Bruce Tulgan "Leadership development" may sound better, but our research shows that what's missing in the repertoires of 9 out of 10 leaders is consistent practice of the old-fashioned basics of management. There is so much work to be done by training professionals: