May / June 2013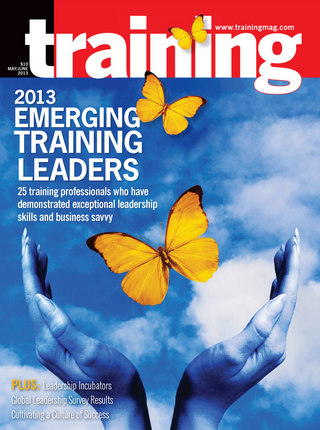 View Digital Edition
Edited by Margery Weinstein
By Catherine Mattice, President, Civility Partners, LLC
By Ross Tartell Most of us have had the disappointing experience of working hard to collect data, analyze it, and then present the results to lukewarm levels of reception. In this highly competitive and cost-constrained market, great data is not enough to build the management commitment and sponsorship so critical to training success. Wendy Heckelman of WLH Consulting points out that the success of any data collection process depends on three interrelated factors:
Like butterflies bursting from their cocoons and flying to new heights, the 25 winners of Training magazine's 2013 Emerging Training Leaders awards are on an upward trajectory of leadership and organizational success. These 25 training professionals have been in the industry for two to 10 years and have demonstrated exceptional leadership skills, business savvy, and training instincts.
By Ajay M. Pangarkar, CTDP, CPA, CMA, and Teresa Kirkwood, CTDP A lot of rhetoric is swirling about how to effectively validate "learning" effectiveness…and we believe much of it is misleading advice. No one is disputing that learning must be effective and accountable. However, don't confuse these two distinctive requirements. To communicate learning effectiveness to business leaders, you must clearly define your initiative's "validity" relative to how it aligns with Kirkpatrick's Level 3 and 4 expectations.
By Stacey Harris, Vice President, Research and Advisory Services, Brandon Hall Group As we discussed in the March/April 2013 edition, Brandon Hall Group has partnered with the Society of Manufacturing Engineers (SME) and Training magazine to better understand how today's organizations are individually addressing the skills gap. The research goal was to understand the solutions that are working today—particularly how organizations are hiring and developing their skilled workforce.
By Tony O'Driscoll In the latter half of 2012, my colleagues at Duke Corporate Education and I conducted interviews with 36 CEOs from around the globe to better understand what it takes to lead in an increasingly connected and complex business context.
LEADERSHIP DEVELOPMENT By Jeff Orlando and Karen Eber, Senior Managers, Leadership Development, Deloitte Services LP
While the number of organizations offering virtual work arrangements has increased from 35 to 45 percent over the last few years, a few notable companies recently have gone against the trend and banned working from home policies. These moves may lead more employers to reevaluate their own flexible work arrangements, says Aon Hewitt, the global human resource solutions business of Aon plc.