May / June 2013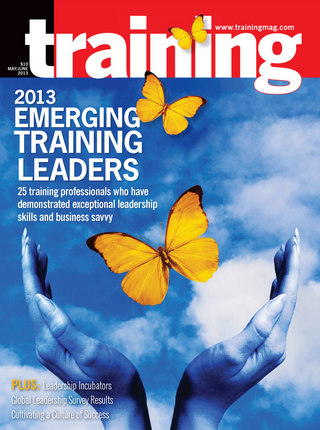 View Digital Edition
Edited by Margery Weinstein
By Catherine Mattice, President, Civility Partners, LLC
Corporate/academic partnerships may be a big part of the solution to the skills gap. The key to success lies in understanding the challenges, choosing the right partners, and measuring effectiveness.
I would not be a happy camper if my publisher pulled a "Marissa Mayer" and called me to say I could no longer work from home after three blissful years of doing so and would have to resume my four-hour-a-day commute to an office in New York City. And I shudder at the very thought of coming home to two lonely, enraged dachshunds with too much time on their…um…paws. I certainly would think about looking for another job. In the meantime, I would drag my sorry self to the office and be unhappy, unengaged, and resentful (and probably pretty unproductive).
Broader thinking, higher expectations, and deeper analysis characterize the organizations represented in the 2013 iteration of the annual Global Leadership Development (GLD) study conducted by Training magazine, the American Management Association (AMA), and the Institute for Corporate Productivity (i4cp).
By Ross Tartell Most of us have had the disappointing experience of working hard to collect data, analyze it, and then present the results to lukewarm levels of reception. In this highly competitive and cost-constrained market, great data is not enough to build the management commitment and sponsorship so critical to training success. Wendy Heckelman of WLH Consulting points out that the success of any data collection process depends on three interrelated factors:
Like butterflies bursting from their cocoons and flying to new heights, the 25 winners of Training magazine's 2013 Emerging Training Leaders awards are on an upward trajectory of leadership and organizational success. These 25 training professionals have been in the industry for two to 10 years and have demonstrated exceptional leadership skills, business savvy, and training instincts.
By Ajay M. Pangarkar, CTDP, CPA, CMA, and Teresa Kirkwood, CTDP A lot of rhetoric is swirling about how to effectively validate "learning" effectiveness…and we believe much of it is misleading advice. No one is disputing that learning must be effective and accountable. However, don't confuse these two distinctive requirements. To communicate learning effectiveness to business leaders, you must clearly define your initiative's "validity" relative to how it aligns with Kirkpatrick's Level 3 and 4 expectations.