May / June 2013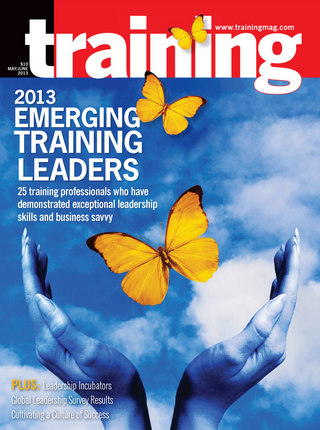 View Digital Edition
Edited by Margery Weinstein
By Catherine Mattice, President, Civility Partners, LLC
By Frank Waltmann, Ph.D. This is the first of a three-part series of articles written exclusively for Trainingmagazine on business challenges and opportunities in Asia and how Swiss-based pharmaceuticals and life sciences company Novartis' learning and leadership development programs are helping address the myriad issues.
>> Panopto announced the latest version of its e-learning and video platform solution:Panopto 4.3. New features include failsafe recording, social enablement (including rich comments, community ratings, and video bookmarks), and a scalable platform (per-user analytics and an IT admin dashboard).
By Gail Dutton It takes leaders to develop leaders. That's the No. 1 lesson from America's top corporations. Companies that create in-house "leadership incubators" often have great success, but only if they have active involvement by senior leaders.
Corporate/academic partnerships may be a big part of the solution to the skills gap. The key to success lies in understanding the challenges, choosing the right partners, and measuring effectiveness.
I would not be a happy camper if my publisher pulled a "Marissa Mayer" and called me to say I could no longer work from home after three blissful years of doing so and would have to resume my four-hour-a-day commute to an office in New York City. And I shudder at the very thought of coming home to two lonely, enraged dachshunds with too much time on their…um…paws. I certainly would think about looking for another job. In the meantime, I would drag my sorry self to the office and be unhappy, unengaged, and resentful (and probably pretty unproductive).
Broader thinking, higher expectations, and deeper analysis characterize the organizations represented in the 2013 iteration of the annual Global Leadership Development (GLD) study conducted by Training magazine, the American Management Association (AMA), and the Institute for Corporate Productivity (i4cp).