Home
November / December 2012
November / December 2012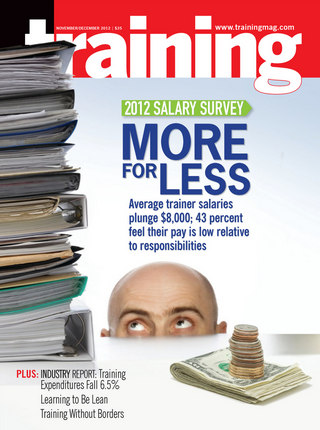 View Digital Edition
By Dr. Stephen A. Laser When faced with a potentially problematic hire, organizations must face a difficult decision. They can either reject the candidate outright based on the findings from the initial hiring process or they can bring the person onboard and coach him or her in the hope that the person's behavior will change for the better.
As part of Brandon Hall's Analyst Insight program, it received a recent member question concerning leadership development. The member wanted to know the benefits or disadvantages of creating a GE-style leadership program that takes recent MBA graduates and rotates them through the organization for a year or more with a focus on learning an organization's culture and succession planning. The idea sounds great—but what works for GE may very well be a disaster for a smaller, less global organization.
By Greg Bell, Founder, Water The Bamboo Center For Leadership Have you watered your bamboo today? When I ask that question, I often get some rather puzzled looks. What does cultivating a crop of giant timber bamboo have to do with training, human resources, or even leadership for that matter?
Training magazine taps 2012 Training Top 125 winners and Top 10 Hall of Famers to provide their learning and development best practices in each issue. Here, we look at strategies for communication/customer service, employee retention, and sales training. COMMUNICATION/CUSTOMER SERVICE By Jon Kaplan, Director, Training Center of Excellence, Discover Financial Services
The wild ride continues: After rising slightly in 2010-2011, average training salaries nose-dived nearly $8,000 to an average of $75,657 in 2011-2012, according to Training magazine's Annual Salary Survey of 1,281 readers. The average increase in salary in the last 12 months (not including a promotion or change of employer) rose slightly to 2.81 percent in 2011-2012, up from 2.57 percent in 2010-2011. Some 43 percent of respondents said their salary was low relative to their responsibilities, while another 49 percent said it was equitable.
After rebounding last year, the training industry hit a bump in the road in 2012 as it followed the downward economic trend that dogged the U.S.: Total 2012 U.S. training expenditures—including payroll and spending on external products and services—fell 6.5 percent to $55.8 billion, according to Training magazine's 2012 Training Industry Report. Some 65 percent of organizations either saw their training budget remain the same or decrease in 2012.