Home
November / December 2012
November / December 2012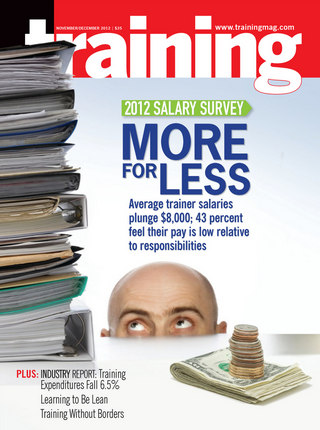 View Digital Edition
By Dr. Stephen A. Laser When faced with a potentially problematic hire, organizations must face a difficult decision. They can either reject the candidate outright based on the findings from the initial hiring process or they can bring the person onboard and coach him or her in the hope that the person's behavior will change for the better.
As part of Brandon Hall's Analyst Insight program, it received a recent member question concerning leadership development. The member wanted to know the benefits or disadvantages of creating a GE-style leadership program that takes recent MBA graduates and rotates them through the organization for a year or more with a focus on learning an organization's culture and succession planning. The idea sounds great—but what works for GE may very well be a disaster for a smaller, less global organization.
By Greg Bell, Founder, Water The Bamboo Center For Leadership Have you watered your bamboo today? When I ask that question, I often get some rather puzzled looks. What does cultivating a crop of giant timber bamboo have to do with training, human resources, or even leadership for that matter?
By Jason W. Womack, MEd, MA Here are my suggestions about how to make change last: Look at what you are doing now. Make a decision to change one thing. An excellent way to improve your current situation is to initially accept things the way they are. When you know where you are, you then can make thoughtful adjustments.
By Sirin Köprücü, Senior Associate,and Neal Goodman, Ph.D., President, Global Dynamics, Inc.
By Roy Saunderson, President, Recognition Management Institute When dealing with mistakes at work, I always think of a classic IBM story that demonstrates the attitude I hope all leaders will have whenever we make those painful errors in our jobs. Imagine being a mid-level executive at IBM and making a multimillion-dollar mistake. Apparently, the executive immediately approached then-CEO Thomas J. Watson, Jr., and tendered his resignation. Watson refused to fire him, saying he had just spent millions of dollars educating him, so why would he let him go now?
By Margery Weinstein Like many companies, your organization likely is expanding to international markets with overseas employees or affiliated workers who need training. Before you worry about developing learning plans and content for each market from scratch, consider what three 2012 Training Top 125 winners do to make their training materials ready for overseas learners. With the right plan and enough flexibility and cultural understanding, your core training messages can cross oceans and continents. Consistent Lessons, Culturally Relevant Delivery