Home
November / December 2012
November / December 2012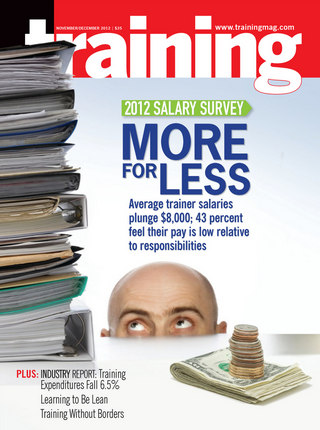 View Digital Edition
By Roy Saunderson, President, Recognition Management Institute When dealing with mistakes at work, I always think of a classic IBM story that demonstrates the attitude I hope all leaders will have whenever we make those painful errors in our jobs. Imagine being a mid-level executive at IBM and making a multimillion-dollar mistake. Apparently, the executive immediately approached then-CEO Thomas J. Watson, Jr., and tendered his resignation. Watson refused to fire him, saying he had just spent millions of dollars educating him, so why would he let him go now?
By Margery Weinstein Like many companies, your organization likely is expanding to international markets with overseas employees or affiliated workers who need training. Before you worry about developing learning plans and content for each market from scratch, consider what three 2012 Training Top 125 winners do to make their training materials ready for overseas learners. With the right plan and enough flexibility and cultural understanding, your core training messages can cross oceans and continents. Consistent Lessons, Culturally Relevant Delivery
By Gail Dutton "If it's not adding value, eliminate it," says Juan Amador, director of LEAN Six Sigma at Underwriters Laboratories (UL). That's the idea behind LEAN Six Sigma, but although leadership often "gets it," selling the idea to employees can be challenging.
Training magazine taps 2012 Training Top 125 winners and Top 10 Hall of Famers to provide their learning and development best practices in each issue. Here, we look at strategies for communication/customer service, employee retention, and sales training. COMMUNICATION/CUSTOMER SERVICE By Jon Kaplan, Director, Training Center of Excellence, Discover Financial Services
The wild ride continues: After rising slightly in 2010-2011, average training salaries nose-dived nearly $8,000 to an average of $75,657 in 2011-2012, according to Training magazine's Annual Salary Survey of 1,281 readers. The average increase in salary in the last 12 months (not including a promotion or change of employer) rose slightly to 2.81 percent in 2011-2012, up from 2.57 percent in 2010-2011. Some 43 percent of respondents said their salary was low relative to their responsibilities, while another 49 percent said it was equitable.