Home
November / December 2020
November / December 2020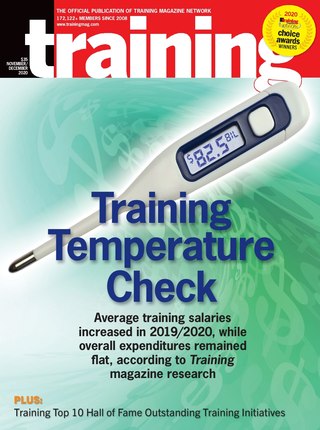 View Digital Edition
Each year Training magazine requires all Training Top 10 Hall of Famers to submit an Outstanding Training Initiative that we share with our readers. Here are the details of how KLA Corporation drove growth and engagement through a company rebrand, Keller Williams Realty's Command Training, and SCC Soft Computer's CPP and SST (Start-Stop Timer) Training and Competency Assessment.
Training magazine taps 2020 Training Top 125 winners and Top 10 Hall of Famers to provide their learning and development best practices in each issue. Here, we look at AAA Northeast's sales training and United Wholesale Mortgage's 7 plays to create a learning culture.
Training magazine reveals the results of its crowd-sourced vendor awards program.
Despite the onset of the COVID-19 pandemic, average training salaries grew nearly 3 percent in 2019-2020 to $87,658, according to Training magazine's annual Salary Survey.
COVID-19 started to take a toll on total U.S. training expenditures in 2020 as they declined more than half a percent to $82.5 billion, according to Training magazine's 2020 Training Industry Report.