Home
September / October 2013
September / October 2013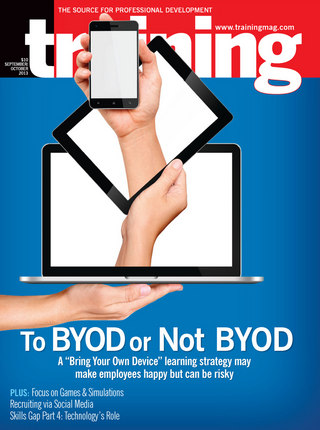 View Digital Edition
Training magazine taps 2013 Training Top 125 winners and Top 10 Hall of Famers to provide their learning and development best practices in each issue. Here, we look at onboarding games and simulations and social learning strategies.
In this fourth installment of the Skills Gap series, we look at how technology can help bridge skill gaps, available technologies and how to choose the right ones for your organization, and how to determine the training budget for these technologies.
By Jean Abinader, Senior Associate, Global Dynamics Inc. Egypt's future at the center of regional Arab and European business activity based on its large domestic market and critical geographic position is in transition. Although the Muslim Brotherhood-led government is bullish on business, there is a vocal minority distrustful of Western companies with previous regime connections.
By Jason W. Womack, MEd, MA We're about to start the fourth quarter of 2013, and I need to ask: Are the goals you set at the beginning of the year on track for success?  The other day I was on the phone with one of my mentors and he told me, "You need to build more pauses in your life."
By Neal Goodman, Ph.D., President, Global Dynamics, Inc. Is it possible to provide the learning and development that usually would take place in a classroom environment and flip it so the content is provided before the class ever meets? The value of classroom instruction is the spontaneity and serendipitous learning that cannot be replicated in an online e-learning classroom. But it is possible to use online tools for their maximum benefit and still retain the value of interpersonal interaction.
Development DimensionsInternational, Inc. (DDI) recently surveyed 181 HR executives to learn more about how they were using social media for leadership development. The survey revealed that about one-half of responding organizations are not yet using social media as part of their leadership development initiatives. And those who are utilizing tools aren't using them in a blended manner.
By Tony O'Driscoll, Executive Director, Duke Corporate Education
By Bruce Tulgan How does anyone learn faster than the accelerating obsolescence curve nowadays? "Just in time," of course, fueled by the latest and greatest technology:
By Shawn Achor What is more important than IQ and emotional intelligence combined? Over the last two decades, Training departments have split their resources based upon whether they believed technical skills or emotional intelligence was more important. This debate led us away from the most important part: You cannot succeed long term if you have one but not the other.
>> FirstNet Learning andWorkplace Answers (WPA) formed a new partnership to exchange online training course catalogs and deliver new compliance training courses to their respective customers. WPA is a human resource online training company specializing in training programs that address employment law and workplace compliance needs. FirstNet Learning delivers online training solutions in the areas of health and safety, human capital management, defensive driving, and business skills.