Home
September / October 2013
September / October 2013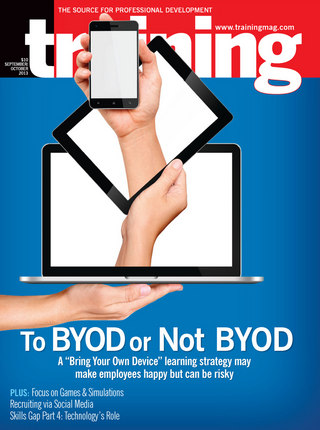 View Digital Edition
Training magazine taps 2013 Training Top 125 winners and Top 10 Hall of Famers to provide their learning and development best practices in each issue. Here, we look at onboarding games and simulations and social learning strategies.
In this fourth installment of the Skills Gap series, we look at how technology can help bridge skill gaps, available technologies and how to choose the right ones for your organization, and how to determine the training budget for these technologies.
This is the third of a three-part series of articles on business challenges and opportunities in Asia and how Swiss-based pharmaceuticals and life sciences company Novartis' learning and leadership development programs are helping address the myriad issues.
By Lorri Freifeld Technology isn't the silver bullet solution to the skill gaps—technical, leadership, soft skills, and more—many companies continue to face. But it can help to narrow the distance between the skills employers seek and the skills employees bring to the table.
Just a few years ago, the training world was abuzz with the tantalizing possibilities of 3-D/virtual worlds. But today, the buzz seems to have died down to a soft murmur. Has 3-D taken a backseat to other training methods?
My husband and I both have what he not so affectionately calls "dumb phones." Granted, if we forked over $30 a month for a data plan, we would have Internet access on these mobile phones. But we can't scan QR codes in the grocery store; we can't send photos from our phones to our iPad and Kindle; we can't share content simply by touching our phones together. You get the picture.
By Gail Dutton CASE STUDY #1 U.S. Army: Teaching Peacekeepers to ID Social Networks When young peacekeepers enter a village in any of today's war zones, the societal norms they grew up with often are no longer relevant. Despite the culture shock, they need to quickly build relationships with locals and identify potential friends and foes accurately.
By Steven Katzman, Ph.D.,Director of Organizational Effectiveness and Performance Measurement, KPMG LLP Like most organizations committed to the continuous improvement of training, KPMG LLP highly values the post-course debrief. But in the past, when our content developers and instructional designers were asked about a program, their responses often were met with skepticism. Could a professional so deeply involved in the development of a course ever be truly objective about assessing its effectiveness?
ONBOARDING GAMES AND SIMULATIONS By Kerry Klein, Leadership Development, Deloitte Services LP
By Chelsea Perino, Marketing Manager,and Thomas Michael, CEO, Michael Management Corporation The last decade has seen exponential growth in the online training space. People are relying on the Internet more and more—as a place to research products, gather and share information, stay in contact with others, and stay up to date on the most recent trends—and this presence and activity in the digital space only continues to increase as technology progresses.