Home
September / October 2013
September / October 2013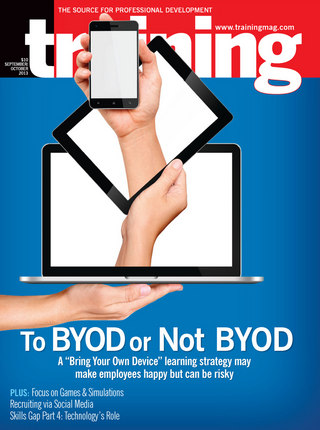 View Digital Edition
Training magazine taps 2013 Training Top 125 winners and Top 10 Hall of Famers to provide their learning and development best practices in each issue. Here, we look at onboarding games and simulations and social learning strategies.
In this fourth installment of the Skills Gap series, we look at how technology can help bridge skill gaps, available technologies and how to choose the right ones for your organization, and how to determine the training budget for these technologies.
By Shawn Achor What is more important than IQ and emotional intelligence combined? Over the last two decades, Training departments have split their resources based upon whether they believed technical skills or emotional intelligence was more important. This debate led us away from the most important part: You cannot succeed long term if you have one but not the other.
>> FirstNet Learning andWorkplace Answers (WPA) formed a new partnership to exchange online training course catalogs and deliver new compliance training courses to their respective customers. WPA is a human resource online training company specializing in training programs that address employment law and workplace compliance needs. FirstNet Learning delivers online training solutions in the areas of health and safety, human capital management, defensive driving, and business skills.
By Bob Pike, CSP, CPAE, CPLP Fellow I have to admit I'm a bit of a geek. OK, OK, I'm probably all geek. I love all things techy—especially when it comes to training. So it is easy for me to be not just leading edge, but bleeding edge.
>>Regionally Accredited Online Schools (http://www.accreditedonlinecolleges.org/ ) is a new online resource that ranks each university throughout the nation by size, degrees offered, tuition costs, admission, graduation, and retention rates.
By Roy Saunderson,Chief Learning Officer, Rideau's Recognition Management Institute Please remember I am a Baby Boomer. I am only partially immersed in technology, which sometimes my children have to help me wade through. I remember getting my first iPhone more than a year ago, and I kept looking through the packing box for the instruction manual. There was just a small piece of paper simply telling me how to turn it on and plug it in to charge it up. That was about it. And so the learning began.
By Ken Comée, CEO, Badgeville To nurture top performers,leaders need to borrow from the many user experiences and shifts in employee motivation that social media culture has surfaced. Some tips:
By Peter Post, Director, The Emily Post Institute More and more, The Emily Post Institute is asked to include advice about appropriate social networking activities in our seminars. The use and number of social networking platforms has grown exponentially over the last few years. From Facebook to Twitter, LinkedIn, Instagram, Tumbler, Pinterest, and others, the opportunities to post inappropriately and to spend time on personal excursions rather than doing work have expanded, as well.
>>Westinghouse Digital introduced a new lineup of digital LED-based whiteboards consisting of four models, ranging in size from 55-inch high-definition units through an 84-inch 4k (Ultra-HD) model. The digital whiteboards feature the proprietary CVT Touch 6 Point Infrared Touch System, which provides interactive control and detects touch points quickly and accurately.