Home
September / October 2013
September / October 2013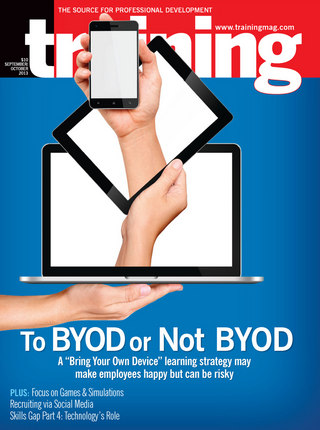 View Digital Edition
Training magazine taps 2013 Training Top 125 winners and Top 10 Hall of Famers to provide their learning and development best practices in each issue. Here, we look at onboarding games and simulations and social learning strategies.
In this fourth installment of the Skills Gap series, we look at how technology can help bridge skill gaps, available technologies and how to choose the right ones for your organization, and how to determine the training budget for these technologies.
By Peter Post, Director, The Emily Post Institute More and more, The Emily Post Institute is asked to include advice about appropriate social networking activities in our seminars. The use and number of social networking platforms has grown exponentially over the last few years. From Facebook to Twitter, LinkedIn, Instagram, Tumbler, Pinterest, and others, the opportunities to post inappropriately and to spend time on personal excursions rather than doing work have expanded, as well.
>>Westinghouse Digital introduced a new lineup of digital LED-based whiteboards consisting of four models, ranging in size from 55-inch high-definition units through an 84-inch 4k (Ultra-HD) model. The digital whiteboards feature the proprietary CVT Touch 6 Point Infrared Touch System, which provides interactive control and detects touch points quickly and accurately.
Most smart phone users check their phones a whopping 150 times a day, 100 hours of video per minute are uploaded to YouTube, and tablet shipments surpassed desktop PCs and notebooks in fourth quarter 2012, according to The Meeker report.
Reaching out to viable job candidates via online talent communities is a way to sharpen your recruitment and promote your company's brand message via social media.
This is the third of a three-part series of articles on business challenges and opportunities in Asia and how Swiss-based pharmaceuticals and life sciences company Novartis' learning and leadership development programs are helping address the myriad issues.
By Lorri Freifeld Technology isn't the silver bullet solution to the skill gaps—technical, leadership, soft skills, and more—many companies continue to face. But it can help to narrow the distance between the skills employers seek and the skills employees bring to the table.
Just a few years ago, the training world was abuzz with the tantalizing possibilities of 3-D/virtual worlds. But today, the buzz seems to have died down to a soft murmur. Has 3-D taken a backseat to other training methods?
My husband and I both have what he not so affectionately calls "dumb phones." Granted, if we forked over $30 a month for a data plan, we would have Internet access on these mobile phones. But we can't scan QR codes in the grocery store; we can't send photos from our phones to our iPad and Kindle; we can't share content simply by touching our phones together. You get the picture.