Home
September / October 2013
September / October 2013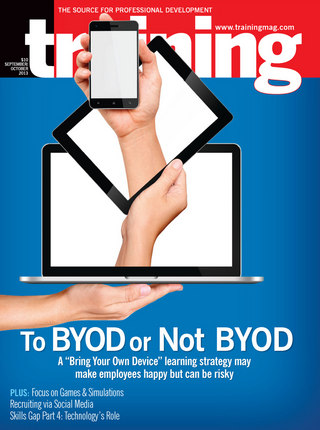 View Digital Edition
By Gail Dutton CASE STUDY #1 U.S. Army: Teaching Peacekeepers to ID Social Networks When young peacekeepers enter a village in any of today's war zones, the societal norms they grew up with often are no longer relevant. Despite the culture shock, they need to quickly build relationships with locals and identify potential friends and foes accurately.
By Steven Katzman, Ph.D.,Director of Organizational Effectiveness and Performance Measurement, KPMG LLP Like most organizations committed to the continuous improvement of training, KPMG LLP highly values the post-course debrief. But in the past, when our content developers and instructional designers were asked about a program, their responses often were met with skepticism. Could a professional so deeply involved in the development of a course ever be truly objective about assessing its effectiveness?
ONBOARDING GAMES AND SIMULATIONS By Kerry Klein, Leadership Development, Deloitte Services LP
By Chelsea Perino, Marketing Manager,and Thomas Michael, CEO, Michael Management Corporation The last decade has seen exponential growth in the online training space. People are relying on the Internet more and more—as a place to research products, gather and share information, stay in contact with others, and stay up to date on the most recent trends—and this presence and activity in the digital space only continues to increase as technology progresses.
Research shows some disconnects between the types of training delivery respondents felt were most effective to bridge skill gaps and the types of training delivery most utilized.
By Stephen Evans, Director, Training, Cardon Outreach, LLC From 1996 to 2012, employees at the Tooele Chemical Agent Disposal Facility (TOCDF) in Stockton, UT, worked to destroy the nation's largest stockpile of chemical weapons. Due to the nature of our work, we had a significant training footprint, which included a series of technical operator training; compliance or regulatory training; and dozens of courses on safety, health, environmental, and security-related topics.
By Whitney Cook, Account Manager, Inward Strategic Consulting (http://www.inwardconsulting.com) Top companies all over the worldare adopting gamification into their core business strategies in order to drive engagement for employees, customers, and partners. But there are some unexpected pitfalls. Here are the Top 5 to watch out for
By Jean Abinader, Senior Associate, Global Dynamics Inc. Egypt's future at the center of regional Arab and European business activity based on its large domestic market and critical geographic position is in transition. Although the Muslim Brotherhood-led government is bullish on business, there is a vocal minority distrustful of Western companies with previous regime connections.
By Jason W. Womack, MEd, MA We're about to start the fourth quarter of 2013, and I need to ask: Are the goals you set at the beginning of the year on track for success?  The other day I was on the phone with one of my mentors and he told me, "You need to build more pauses in your life."
By Neal Goodman, Ph.D., President, Global Dynamics, Inc. Is it possible to provide the learning and development that usually would take place in a classroom environment and flip it so the content is provided before the class ever meets? The value of classroom instruction is the spontaneity and serendipitous learning that cannot be replicated in an online e-learning classroom. But it is possible to use online tools for their maximum benefit and still retain the value of interpersonal interaction.