Home
September / October 2017
September / October 2017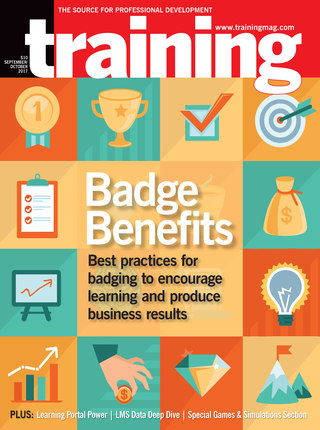 View Digital Edition
Each year Training magazine requires all Training Top 10 Hall of Famers to submit an Outstanding Training Initiative that is shared with our readers in a print issue. Here are the details of IBM's Watson Academy and KLA-Tencor's Hackathon@KT.
Training magazine taps 2017 Training Top 125 winners and Top 10 Hall of Famers to provide their learning and development best practices in each issue. Here, we look at BayCare Health System's use of gamification and DPR Construction's safety training.
Nonprofit talent acquisition and retention strategies that can stretch training budgets and increase employee engagement.
Games and simulations case studies where learners are putting the pedal to the metal the moment they log in.
Today's learning games and simulations feature increasingly sophisticated technology, including virtual reality, immersive experiences, lifelike avatars, and cognitive games.
Learning management systems have tremendous capacity for obtaining and storing data about your learners and your organization. But how easy is it for you to access that information, and how adept are you at using it?
How to turn your learning portal into a superhero that vanquishes training challenges.
How organizations can use badging to encourage learning and generate results.