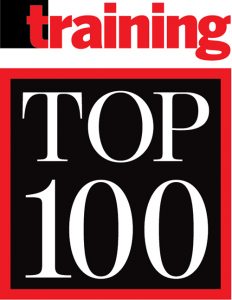 Training magazine taps 2021 Training Top 100 winners and Top 10 Hall of Famers to provide their learning and development best practices in each issue. Here, we look at Sovos' IMPACT program, which targets individual contributors who lead by influence rather than authority and who have made a tremendous impact on the organization.
IMPACT DOESN'T HAPPEN BY ACCIDENT
By Vanessa Diaz, Director, Learning and Organizational Development, Sovos
Global tax software leader Sovos was recognized by Training magazine in 2021 as one of 100 companies worldwide to achieve a high level of innovation and excellence in its employer-sponsored training and development programs. Sovos' programs focus on employee fulfillment and supporting growth opportunities, while prioritizing a culture aimed at motivating career-oriented employees to innovate and advance while celebrating successes along the way.
IMPACT is one of those employee-focused programs, which targets individual contributors who lead by influence rather than authority and who have made a tremendous impact on the organization. This is a global leadership program available to our more than 2,000 employees in the 11-plus countries we operate.
Program Details
IMPACT participants are selected via a nomination process from senior leadership around the globe. These nominations are submitted to the Learning and Development Program manager where the nominees are narrowed down to 20 to 30 participants. Criteria for selection is based on a variety of factors, such as department, location, tenure, number of nominations, gender, and those who represent the top 20 percent of performers at Sovos with a of ensuring a globally diverse group of high performing individuals. The intent is to further aid in their growth and development and to help position them as future leaders of the company.
This program is facilitated virtually and spans a period of five months, with each month focused on one of the company's core values. As an example, "Be Accountable," is where the group reviews excerpts of Viktor Frankl's "Man's Search for Meaning," that involves discussions on rising above one's circumstances.
With the exception of the final meeting, each session is either led by outside consultants or members of executive leadership who share their own guidance and experiences with the group.
When it comes to structure and content, three lenses are used as a filter. First is adherence to the Kirkpatrick model, specifically early identification of Level 3 (behavior change) and Level 4 (business results) assessment strategies. Each topic and each slide has a specific purpose to tie back to overarching company goals. The second lens is adherence to adult learning theories and structuring material with the question in mind of "what's in it for me?" Third, we design a highly engaging experience due to the nature of virtual meetings posing an interactivity challenge.
There are two key areas of program evaluation. First, Sovos' core values are the foundation of the annual performance review process, which is where the leader has the opportunity to review improvements and share examples with the IMPACT participant. Second, in the final session, "Be Professional," participants are placed into groups of four where they present an innovative idea to senior and executive leadership that reinforces their assigned core value. Audience members, including IMPACT peers, must complete a critique worksheet on presentation and proposal. The evaluation criteria includes:
Presentation skills
Content
Integration of company metrics
Handling of Q&A
Overall presentation and embodiment of our "Be Professional" core value
Results
In our most recent cohort of IMPACT, we achieved our goal of 90 percent retention of the top 20 percent of our workforce. Participants from this leadership program are part of that dynamic, which accounts for a large percentage of our high-potential employees (approximately 30 percent).
Groups also were tasked with sharing an innovative idea on making global improvements at Sovos. As part of this, they formulate a project plan, conduct necessary research, and integrate the specific metrics they are looking to improve. The group with the most positive feedback and greatest demonstrated value via metrics in their presentation sees their plan put into action.
As a result of this program and others, we saw engagement survey statements of "New ideas are encouraged at Sovos" increase by 22 percent. In our most recently completed leadership program, 19 percent of participants were IMPACT program alumni. This further reinforces the goal of IMPACT to grow and develop Sovos' future leaders.
The global IMPACT program has gone through tremendous changes over the years. However, it continues to succeed due to the business need, leadership participation, and the motivated and talented Sovos employees. Despite the challenges of outside factors beyond our control, these types of programs continued on with the same high level of motivation and determination to participate. It's a prime example of our teams embodying our "Be Accountable" core value.