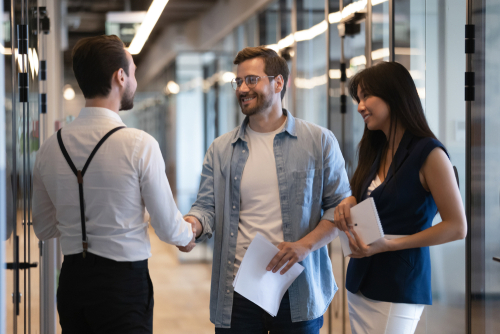 So much critical communication happens in informal side conversations that are highly unstructured: ad hoc hallway encounters, lunch dates, quick text updates, phone calls, and office drop-ins, not to mention cross-talk and side conversations in those otherwise structured project team meetings.
What about communication that takes place outside the formal meeting? Those tidbits someone drops on you at the coffee station or that text or quick check-in from a colleague can be every bit as important as the formal information and discussion you get when sitting in meetings.
The trick is to put some structure in those informal learnings. Just as you would note and apply what you learn during a formal meeting, you should capture and leverage as much informal information as possible. In fact, informal communication can be the ultimate tool when you're asked to "work it out at your own level."
So pay close attention to all those unstructured interactions that come your way between or before or right after a meeting, or even side (or cross) talk during meetings. Those seemingly one-off communications, if they involve any substantive talk about the work, can be key. There is often critical information in the cross talk at a meeting or a quick post-meeting huddle. The same goes for all those e-mails, texts, quick calls, hallway chats, and drop-bys.
Don't let it stay in the ether. Put as much structure as you possibly can in those unstructured informal communications:
Stop the person who is delivering the aside
Visibly take notes
Then follow up in writing to confirm the communication and try to schedule a structured follow-up one-on-one conversation
Add structure to unstructured interactions, and you will get much better substance. That is especially true when it comes to interruptions—those unwelcome (usually) questions or comments that someone drops on you when you're right in the middle of something else.
How to Deal with Interruptions
Who are your regular interrupters? And who do you find yourself interrupting on a regular basis? Often, seemingly one-off communications can become an important, ongoing conversation. Again, the key is to add structure to those interruptions.
Try it. When one of your regular interrupters next interrupts you, don't dismiss the conversation, but after absorbing the interruption, suggest scheduling a one-on-one meeting. In between now and your scheduled one-on-one, suggest that you each keep a list of what you want to discuss with the other—and that you each prepare a bit before you meet.
Imagine how much more productive that conversation is likely to be than all those interruptions. If it goes really well, maybe, at the end, schedule another conversation. Maybe you will get into a cadence of regular, structured communication instead of all those unstructured interruptions.
This works especially well with high-maintenance customers and clients who think nothing of interrupting you because they are the ones paying the company all that money. They are often your top priority, so you know you'd better welcome and even embrace their interruptions. But you can serve them a whole lot better, and save yourself a lot of aggravation, by paying attention to the frequency of their interruptions and scheduling a regular one-on-one to get ahead of them. If you build the right cadence of structured one-on-ones, you will obviate most interruptions, with the exception of real emergencies.
What if you're the person who regularly interrupts others? Maybe you think nothing of peppering your own vendors or direct reports with questions or comments while they're trying to work. Or maybe you find yourself interrupting your boss or that special go-to colleague almost daily because you need guidance or help.
Try, instead, asking those people for a one-on-one meeting. It can be lunch or coffee or a 15-minute conversation in the conference room. Save up your questions and prepare for the meeting in advance. Your direct reports, vendors, boss, or colleagues will thank you. Nobody's at their best when they are being interrupted. Why would you want to be anybody's regular interrupter?
Bruce Tulgan is the best-selling author of "It's Okay to Be the Boss" and the CEO of RainmakerThinking, the management research, consulting, and training firm he founded in 1993. All of his work is based on 27 years of intensive workplace interviews and has been featured in thousands of news stories around the world. His newest book, "The Art of Being Indispensable at Work: Win Influence, Beat Overcommitment, and Get the Right Things Done," is available for purchase from Amazon, Barnes & Noble, and all major booksellers on July 21, 2020, from Harvard Business Review Press. You can follow Bruce on Twitter @BruceTulgan or visit his Website at: rainmakerthinking.com.