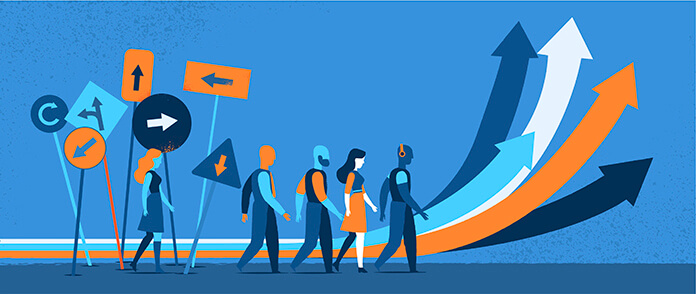 The 2020 Census has long wrapped up, but one of the biggest concerns its data raised about the country's labor force will be on the forefront of many companies' minds for years to come. Namely, the country's birth rate is the second slowest it has ever been since the census started in 1790. The last year was no exception—the birth rate declined by a record low of 4 percent from 2019 to 2020—and the ongoing pandemic is predicted to worsen the numbers for next year.
Reports of a rapidly vanishing populace have major implications for the country's workforce and economy, a problem analytics firm Emsi dubbed "a great sansdemic." Emsi reported that "the U.S. faces the shortfall of 8.5 million workers in years to come, which will cause both higher education institutions and businesses to desperately compete for recruits who simply don't exist."
Even before COVID-19, ManpowerGroup found that 70 percent of U.S. employers reported a talent shortage. The problem has exacerbated since the pandemic, which caused college undergraduate enrollment to decline by 3.6 percent, and freshman enrollment to fall more than 13.1 percent, according to research firm National Student Clearinghouse. Underrepresented groups have been hit the hardest, with The Chronicle of Higher Education reporting that Black, Hispanic, and Native American students were enrolling at the lowest rate.
This huge drop in workers and talent is reviving the War for Talent narrative across the HR industry. And while the data seems bleak, employers can take action against this shortage and source high-potential talent. That includes reexamining the dependency on credentials as a primary indicator for strong candidates, focusing on skills-based hiring, and thoughtfully designing education programs that proactively guide workers on relevant career pathways.
The Power of Skills-Based Hiring
The significance of credentialing or a traditional degree cannot be overstated. But it is needlessly limiting when employers require degrees for roles where it's not particularly necessary to the job at hand. At best, it restricts the talent pool to a select group of people: In 2020, the U.S. Bureau of Labor Statistics reported that about 83.5 million people in the workforce did not have a four-year degree. At worst, it is discriminatory. For example, once a Bachelor's degree is required, more than 75 percent of Black people and 80 percent of Latinx candidates are immediately ruled out from the hiring pool, according to analysis from The Education Trust.
Adopting a skills-based method of hiring, however, expands the talent pool to qualified candidates who may have been overlooked, either because they come from non-traditional backgrounds or from underrepresented populations.
Shifting to skills-based hiring should lead to embracing and investing in upskilling and reskilling workers, as well. After all, to hire for the skills your company needs now will only get you as far as today. Continuous development of workers through education and training programs, and concentrating in areas with the greatest employee population, prepares them for the Future of Work and helps workers remain relevant and employable for the near and long term.
It also means ensuring the resilience of the company as a whole, so that in two, five, or 10 years, it has a workforce that can face the next competitor, economic downturn, or even another pandemic. There is no one-time solution to closing skill gaps. Given how quickly technology, industries, and markets evolve, it's an ongoing process that employers must invest in wholly yet thoughtfully. If not, competitors definitely will. In its 2021 Global Human Capital Trends survey, Deloitte reported that "executives identified 'the ability of their people to adapt, reskill, and assume new roles' as the top-ranked item to navigate future disruptions, with 72 percent selecting it as the most important or second most important factor."
Design with Intention, Not Assumptions
Merely providing an upskilling platform is rarely enough, however. There is no guarantee that just because you "build it, they will come." For example, when it comes to education benefits, Willis Towers Watson found that less than 10 percent of workers take up the opportunity when employers offer education benefits, such as paying tuition.
Without thoughtful design, employers also run the risk that their upskilling programs—which can already cost the company millions of dollars to implement—may be utilized by workers who may not get as much value from the training as others. Indeed, of the $177 billion employers spend on formal training annually, most is spent on employees who already have college degrees, according to Georgetown University's Center on Education and the Workforce. Specifically, 58 percent of the money is spent on employees with a Bachelor's degree or higher, compared to 25 percent on workers with some college experience and 17 percent on workers who attained a high school diploma or less.
When employee enrollment for training programs does not meet expectations, it is tempting to assume workers don't take enough initiative, or do not adopt a "growth mindset," or myriad other shortcomings. Simply offering such programs may give the appearance that a company is "democratizing learning," but only to a certain degree and only to a certain type of worker—namely, college-educated, white-collar workers. That's because when programs are designed for average or above-average populations, which include employees who feel they have more agency over their learning, often there will be poor outcomes and opportunities missed for vulnerable populations. It is unfortunate that we've misconstrued "high-potential" to mean those who already have a high propensity to be successful with or without investment, and not those who have the most potential to be successful after having opportunities extended to them.
Instead, program design should begin with the most underrepresented workers in mind. And the onus to instill a growth mindset should fall on the company to facilitate, not individual workers who have only had highly perishable skills and compliance training pumped into them. Without these two considerations, programs will neither attract as many workers who have the most to gain, nor be as effective for workers who do not see how these programs can lead to career growth beyond their current role.
To address these issues, employers need to have transparent career pathing in place, skills clearly mapped to roles and job functions, and opportunities for mobility after completing programs. For example, Walmart enabled numerous credentialed programs in supply chain management and healthcare to align with its corporate business development in online shopping and health and wellness services. Another example is Chipotle's investment in programs for agriculture and culinary services, which is meant to accelerate the talent it needs for the future. Models like this, which market pathways to working learners and attract their interests, take out the guesswork that often discourages employees.
The Impacts on the Macro and Micro
Emsi's report made clear how much the shrinking labor force would affect both the country's economy and our everyday lives. From having the ability to buy a cup of coffee and order a package and see it in days…to fill a prescription, to receive nursing care—all these functions depend on an army of workers who simply cannot be replaced if they were never born."
While there isn't much companies can do to directly increase the country's birth rate, the enormous significance the War for Talent has on the prosperity of this country, businesses, and individual lives means organizations must act now to recruit, employ, engage, and train workers for the in-demand jobs of the present and future. Skills-based hiring and equitable education programs that have transparent career pathing are crucial to achieving this. By doing these things, companies can find and upskill the workers they need to not only face the War for Talent, but win it, as well.