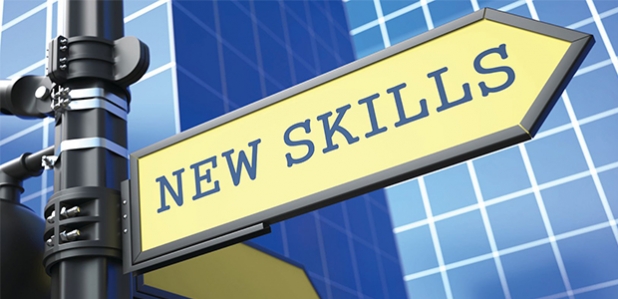 RETAIN to Reskill
Training professionals need to add their perspectives and expertise to Regional Talent Innovation Networks (RETAINs) in their local communities to help the U.S. avoid falling off the looming talent cliff.
Over the last 20 years, the problems associated with talent declines in the U.S. workplace have only grown in size and complexity. They now are having an adverse impact on technological innovation and business sustainability. Yet too many leaders in business, academe, and government have chosen to ignore or marginalize their importance. Developing more talented people does not fit into their vision of how the world functions.
The United States and the world are locked into a structural labor-market race between advanced technology on one side and demographics and education on the other. Too few Americans are prepared to run in this race. By the decade's end, 10 to 20 percent of U.S. businesses may no longer have the talent they need to sustain themselves and will disappear.
We now have reached an employment tipping point. The broad deterioration of the U.S. job market no longer can be explained as part of the business cycle or shored up by maintaining the current failing education-to-employment system. The talent shambles is set to worsen. "We have underemployment, part-time work, people leaving the labor force, reduced participation, long-term unemployment," said Federal Reserve Chairman Ben Bernanke (June 2013). This could mean that the U.S. unemployment rate issued each month is "not exactly representative of the state of the labor market," he added.
Today, more than 30 million Americans of working age are unemployed or underemployed. Millions more have given up looking, thus, removing them from being counted as part of the U.S. labor market. The number of people looking for work is near a historic low of 63.5 percent, while the average duration of unemployment remains near historic highs. Why are so many Americans sitting on the job sidelines, while we estimate 7 million jobs are vacant across the United States? And these vacancies are set to rise to a sky-high level by 2020!
REGIONAL TALENT INNOVATION NETWORKS
How can we bring these people back into the job market? What can be done locally and regionally to restructure the talent creation system? How can we rebuild the jobs pipeline that connects local businesses to the skilled talent needed to remain competitive and survive?
Since 2000, I have discovered and worked with several communities that have mobilized to rebuild local education to employment systems. I have dubbed them RETAINs (Regional Talent Innovation Networks). They include:
The Vermilion Advantage, Danville, IL
High School Inc., Santa Ana, CA
The Community Education Coalition, Columbus, IN
Manufacturing Renaissance, Chicago, IL
Currently, there are more than 1,000 RETAINS across the United States, Europe, and Asia.
What are the concepts behind these RETAINs? Why are they being formed? Generally, adversity triggers the formation of RETAINs. Among the conditions they are formed to combat are:
To stop population and business flight from a region or state
To reverse tax-base decline
To end falling enrollment in community schools
To stop declining governmental services
To turn around local economic stagnation
The State of North Dakota is a notable example. State Senator Karen Krebsbach traces the beginning of North Dakota's mobilization back to the 1980s. Farm consolidation and the increasing mechanization of agriculture were causing the state to lose both population and jobs. Several U.S. conservationists proposed turning much of the high plains, including North Dakota, into a new national park! This proposal got everyone's attention.
In many U.S. communities, the status quo is entrenched because major community groups—businesses, educators, unions, civic organizations, and associations—are isolated in their own silos. There are no effective lines of communication between them, and, thus, little understanding of the problems each faces. RETAINs succeed because individual groups form a new shared vision of a larger community. Each group has its own agenda and needs. But each also has an influence on the whole community, and each depends on the success of the whole community. RETAINs see themselves as joint undertakings in community building and in reviving the American free enterprise system. The key words here are "bottom-up collaboration" defined as joint authority, joint responsibility, and joint accountability among all the partners.
NORTH DAKOTA'S VISION 2000
The key component in North Dakota's success has been broad community collaboration in every part of the state. North Dakota's leaders crafted Vision 2000 to begin diversifying the economy and reversing population flight. Later, business leaders, community and educational institutions, and political leaders on both sides of the aisle formed the Committee of 100 to develop a strategic economic-change plan.
RETAINs are reinventing a 21st century education-to-employment talent creation system for our tech-driven, knowledge-based economy. RETAINs are regional, cross-sector, public-private partnership hubs. They do not duplicate services that already exist. They act as nonprofit intermediaries, rebuilding the pipeline that connects people to the job market and filling in the gaps.
After starting first in Fargo, North Dakota's major population center, career education and information programs now are provided in elementary and secondary schools throughout the state; job/career information is disseminated to students, parents, and adult workers; and current workers and the unemployed are offered continuing education and training.
There are career academies, career and technical education and training centers, and college-level career programs in each of the state's major cities: Fargo, Bismarck, Grand Forks, and Minot. In rural areas of the state, regional career academy centers have been established to supplement electronic instruction beamed to smaller schools. Across the state, 20 Centers of Excellence supported by 190 private-sector partners are headquartered at post secondary institutions.
A concerted statewide effort has diversified and expanded North Dakota's well-educated, high-skill workforce from its agricultural base into a talent pool supporting a wide range of business sectors, including information technology, green industries, biotechnology, unmanned aerial systems, and energy.
These initiatives have attracted Microsoft, Aldevron, Northrop Grumman, and more than 2,400 IT-related businesses across the state. In agriculture, North Dakota still leads the United States in 11 cash crops, but this sector only employs about 7 percent of its workforce. Starting at the end of the last decade, extraction breakthroughs have led to the development of the Bakken Belt of shale oil, natural gas, and coal. Also, North Dakota is ranked ninth among the states in wind-generated energy. These energy initiatives have created 13,000 new jobs.
After many meetings with business executives, politicians, and educators in North Dakota, I have come away with the strong impression that civic engagement is alive and well there. North Dakota may have a small population (672,000), but it stands as a working model of how to build long-term civic engagement at the community and state level. North Dakota has had the lowest state unemployment rate every single month since July 2008; in August 2013, this state's unemployment rate was 3 percent, while the U.S. average was 7.3 percent.
CALLING ALL TRAINING PROFESSIONALS
North Dakota is America's leading RETAIN laboratory. Over the last 20 years, it has initiated business, education, and community reforms that produce people with the skills needed in high-tech workplaces, diversified job opportunities, and reversed a major demographic decline.
The deepening U.S. structural employment crisis calls for the immediate adaptation or scaling up of RETAIN initiatives in the other 49 states. Many already have started this process. Training professionals need to add their perspectives and expertise to RETAINs in their local communities so the U.S. can avoid falling off the looming talent cliff.
Edward E. Gordon is president of Imperial Consulting Corporation and author of "Future Jobs: Solving the Unemployment and Skills Crisis" (Praeger, 2013). He can be contacted at http://www.imperialcorp.com.