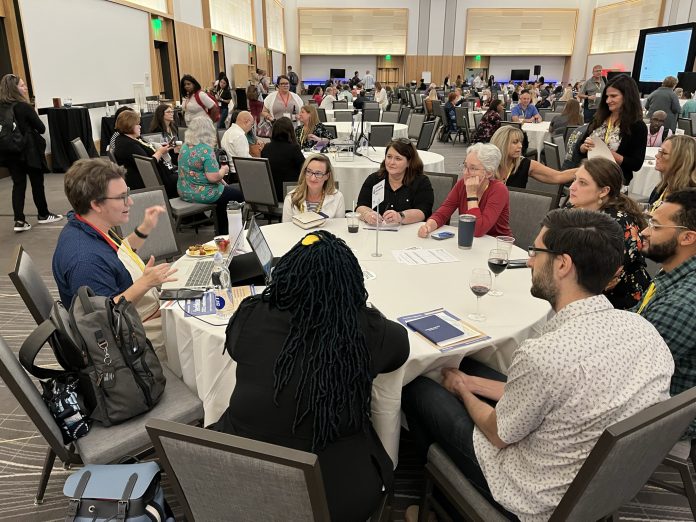 Held for the first time in Austin, TX, Training magazine's TechLearn 2022 Conference this fall was an "I-opening" experience for 500-plus Learning and Development (L&D) professionals as they came together to collaborate on Ideas, Innovation, and Implementation.
Attendees checked out the latest training technologies and design techniques in the Training Test Kitchen, where they got hands-on with 45-plus demos and created recipes for success with eLearning experts.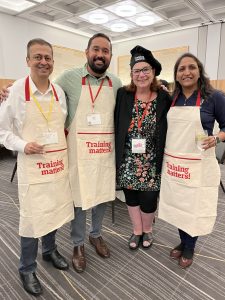 Training Test Kitchen chefs left attendees with food for thought.
They also got to see new solutions to their challenges from a variety of vendors during multiple TechLearn demo sessions throughout the conference. And they leveraged best practices and hands-on tips from 55+ breakout sessions—including lessons learned from Big Tech companies such as Amazon, Google, and Microsoft—to use technology to empower learning at their organizations.
"The TechLearn Conference provided solid examples from other companies and the opportunity to network with professionals," said one attendee. "I appreciated that it wasn't focused solely on the newest tech but also on solid instructional design and learning approaches."
Keynote Takeaways
Three thought-provoking keynoters reexamined how learning can unleash creative and effective solutions to the most pressing issues of our time.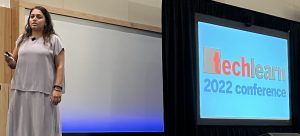 Antoinette Klatzky, senior uLab faculty and executive director of the Eileen Fisher Leadership Institute, talked about how to activate transformational leadership online. "The key is to reimagine what you are currently doing," she stressed. Klatzy advocates for a transformational ecosystem for learning, engaging with the head, heart, and hands. Part of that includes embodied learning (using the whole body), social resonance (making the system see and sense itself), and presencing (inviting us into the current moment).
10 Principles of Thoughtful Leadership (from the Presencing Institute)
Awareness: Cultivate authentic presence.
Intention: Clarify your intention before, during, and after a meeting or project.
Holding Space: Build a robust container.
Inhale Exhale: Design a living process. Develop a sense of rhythm so you know when something needs to shift.
Embodied Learning: Activate multiple senses and intelligences.
Generative Social Fields: Create space for deep listening and dialogue.
Source: Hold spaces for intentional stillness. Who's asking the inner question?
Social Resonance: Make the system see and sense itself.
Inversion: Facilitate inverting container and content. Hear from the edges of the system—people who haven't spoken.
Landing: Institutionalizing, harvesting and appreciation.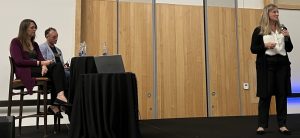 Artisan E-Learning's Amy Morrisey and Diane Elkins shared the stage with Procter & Gamble senior scientist Shane Mays to talk about how we can make every product—and every training—more inclusive. They noted that only 4 percent of companies today are developing products for people with disabilities. "Don't let what you think is not doable stop you. Start small," they advised. "What is out there today that starts to solve a particular problem?" That is what Mays and his team did in figuring out how to differentiate bottles of shampoo and conditioner for those who can't see.
Morrisey and Elkins suggested some things trainers can do:
Describe yourself for those who can't see so well (or at all).
Use bigger fonts in presentations and handouts.
Use captioning.
Utilize good color contrast.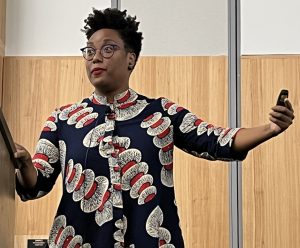 Continuing the inclusion theme, Courtney Cogburn, co-director of Columbia University's Justice Equity + Technology Lab, talked about using virtual reality (VR) to spark racial empathy and engagement. She is the co-creator of 1000 Cut Journey, an immersive VR experience that premiered at the Tribeca Film Festival in 2018. The simulation shows participants life through the eyes of Michael Sterling, a Black male, who experiences racism as a child, adolescent, and adult. Cogburn asked attendees to "be more invested in changing behavior instead of just saying you are against racism. It's not enough to care about the issues. You need to be the person who does something. Let's not just focus on what's wrong but on what could be right."
Innovations in Training (IIT)
L&D professionals also had the opportunity to attend the co-located Innovations in Training event, a three-day "field trip for trainers" that provided insider access to cutting-edge learning organizations in the capital of Texas.
Participants toured The Dumpster Project at Huston-Tillotson University, visited the newly rebuilt and reopened IBM Design Studio Austin and Whole Foods Market headquarters, collaborated on a design thinking challenge at the University of Texas at Austin School of Design and Creative Technologies, and tried out equipment in the University of Texas at Austin School of Nursing Simulation & Skills Center.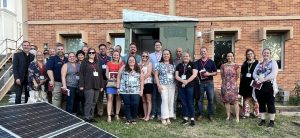 IIT participants in front of The Dumpster Project at Huston-Tillotson University. The project launched in 2014 with this goal: "How can we turn a dumpster into a healthy home for you and the planet?"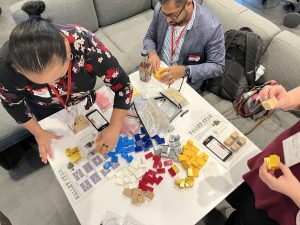 Following the IBM sessions, IIT attendees participated in hands-on labs, including J.J. Taylor Companies' Pallet Stax activity, where they saw how the company is using 3D-printed miniature replicas of cases of breakable beer bottles to help new hires safely practice building orders on pallets before trying it in a live production environment.
To find out more about the experience, visit: https://trainingmag.com/training-gets-weird-at-innovations-in-training-in-austin/
GamiCon 2022 Throwdown Competition Winners
Headlined by some of the world's leading gamification strategists, researchers, and solution providers, the co-located GamiCon 2022 was facilitated by Sententia Gamification. It featured a Throwdown Competition where individuals or organizations could enter their most innovative work in the gamification of L&D, HR, or Adult Education.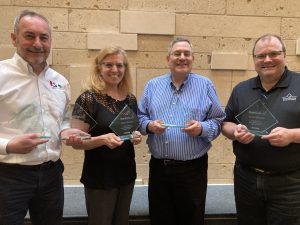 Winners of the Camp GamiCon 2022 Throwdown Competition, from left: Graham Cook, Allison Gordon-Beecher, Stuart Bender, and John Kaufeld.
The winners were:
Overall Outstanding Use of Gamification in Learning
Best Use of Surprise and Delight
"Challenging Assumptions"
Graham Cook, Managing Director and Co-owner
RSVP Design
Best Use of Narrative in Gamification
"Save the Lunar Greenhouse Game: A Journey through Federal Ethics"
Stuart Bender, Director
Office of Ethics, U.S. Department of Agriculture
Excellence in Web-Based/eLearning Gamification
"CSI: Phishing by Global Learning Systems"
Allison Gordon-Beecher, Products and Services Manager
Global Learning Systems
Excellence in Low-Tech/No-Tech Gamification
"Cloudburst"
John Kaufeld, Business Services Coordinator
City of Fort Wayne
To learn more about each of the winning projects, visit: https://trainingmag.com/2022-gamicon-throwdown-competition-winners/
Becoming Better Learners
With plenty of networking, brainstorming, tech road-testing, and problem solving going on throughout TechLearn, IIT, and GamiCon, L&D professionals left Austin with lots of food for thought and new things to try. "I learned that I need to become a better learner in order to help others become better learners," one attendee noted. "Everything I learned during this conference has been impactful, and I plan to leverage this information to help create better opportunities."
Another attendee summed up the conference this way: "TechLearn is an incredible conference where I played, learned, and connected with the brightest minds in the field of Learning and Development."