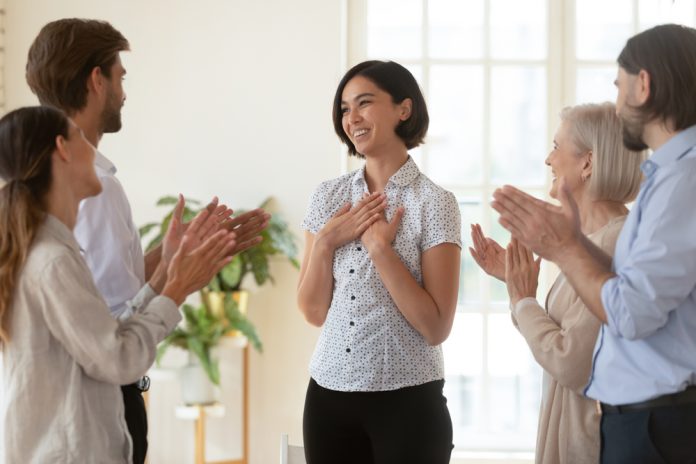 Let's cut right to the chase: When it comes to the very best talent—at every level—the only way to be fair, keep them motivated, retain them, and develop them is to differentiate radically and invest wildly in recognizing and rewarding them.
The MVPs
You know that one great player on your team probably is worth three, four, or five mediocre people. The difference in value is sometimes hard to quantify—and sometimes not so hard. Think about that MVP, that superstar: that employee you can rely on without hesitation. The one who (almost) always gets the job done right and ahead of schedule, takes exactly the right amount of initiative without overstepping, makes good decisions on tough judgment calls, and does it all with a big smile on their face. Day after day, the superstar proves their disproportionate value: Bringing their best to work, continuously learning and growing, going the extra mile, contributing great ideas, and influencing others with their commitment and enthusiasm.
It used to be that you could count on the best people you recruited to rise to the top while the mediocre people would drop off along the way. You didn't expect everybody who came to work for you to achieve a long-term successful career in your organization. There was a challenge hanging out there in front of people when they walked in your door: "Can you make it here?" The best people would rise to that challenge. Nowadays, it seems the best people are the ones who CAN always leave if they don't get their due.
That's why, regardless of fluctuations in the labor market, there is likely to be a growing premium on people at all ends of the skill spectrum who can work smarter, faster, and better. You want your people to be innovative (within guidelines), passionate (within reason), and armed with sufficient discretion to make mistakes (as long as they are not too big). Demand for those people is going to outpace supply for the foreseeable future.
The Value of the Superstar
That superstar is the senior executive talent who can turn around a division in 18 months. That superstar is the programmer who can write two lines of code for every one that an ordinary programmer writes. And that superstar is the call center operator who can dazzle every customer, gather market research on the front lines, and routinely suggest improvements in the whole system. And the salesperson in the field who can sell anything to anybody and monitors warehouse inventory and the production schedule from their handheld device. And the warehouse manager who everybody knows by name and who also knows the new database inside and out. That superstar is the factory worker who doubles as a quality control engineer—the non-physician health professional delivering care previously reserved only for doctors.
This superstar is valuable, and they know it. They will always gravitate to managers who recognize and reward their value and are prepared to invest in building them up and making them even more valuable.
Too often, managers lose superstars (or fail to hire them in the first place) due to a lack of discretion and resources necessary to properly recognize and reward them. But just as often, it's simply a lack of imagination.
Lesson Learned
An advertising executive once told me about what he called "a career-altering mistake in talent management." He had a superstar employee in a critical position who came to him and announced she needed to work only three days a week in the office for the foreseeable future. She wanted to work at home on Thursdays and not at all on Fridays. The ad exec says, "She had fantastic people skills, was super-creative, could dazzle clients, had a great experience in spearheading focused product research, interpreting it, and spinning it into a great creative message. But she also had a great experience with both multimedia campaigns. She had the strength of personality to handle accounts, from the pitching new business stage all the way through the final execution of a high-level multimedia advertising campaign. She was one of a kind. But three days a week and one from home. It just didn't seem like we could do that. It would have made her an 'elite' employee with a sweetheart deal. We were worried about how other employees would react.
"I made my expectations very clear that I didn't think it was a part-time job. And she said she didn't want a part-time job, either. She expected a full-time position with full-time pay, full-time position benefits, and administrative support, and she expected to be on the fast track to partnership. But she wanted to work at home on Thursdays and not at all on Fridays."
I asked, "What did you really think?"
He said, "In all honesty, I knew darned well she could do a lot more in four days a week than most very good people would do in five, but we just couldn't go there. So we let her leave. And I paid for it for a long time."
This woman was precious, and she knew it. She believed she could demand whatever she wanted, or she wouldn't have been so demanding. If she had been able to arrange the terms she needed, do you think her performance would decline or improve? Would she leave the company that arranged those conditions for her soon? Not likely. The ad exec said, "If I had the chance again, I'd make her an elite employee with a sweetheart deal in a heartbeat."
Whether or not your superstars currently are driving a hard bargain, you want to pay them what you know they are worth—in both financial and non-financial rewards:
Invest in your superstars in every way you possibly can. That means your time and every training, development, and stretch assignment opportunity you can muster, not to mention the best resources of every sort.
Pay the superstars what they are worth, especially when they go the extra mile, even if it is more than their counterparts who produce less.
Be flexible about where and when those superstars work, in most cases, as long as they get the job done well and ahead of schedule.