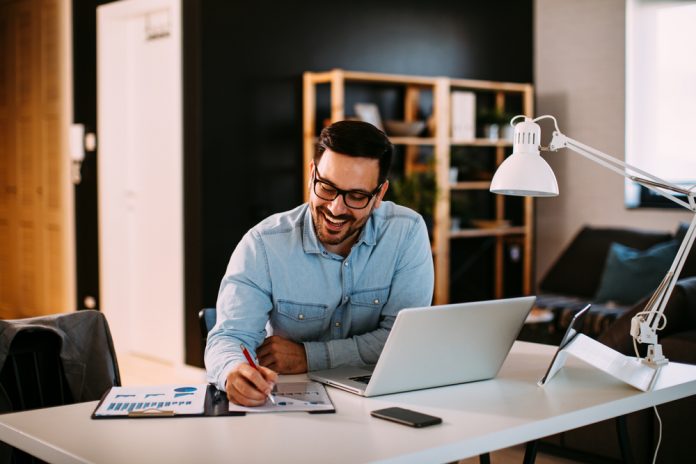 For many years, the idea of remote work has had a bit of a stigma. It was for "slackers," or those who didn't necessarily prioritize their job or career. While some companies have started experimenting with more flexible work environments over the last decade, the onslaught of COVID-19 forced employers to rewrite the rules. Almost overnight, sentiment changed from skepticism to a reliance on remote work. Companies such as Twitter, REI, Zillow, and Square publicly announced teleworking as a permanent benefit for employees and set the bar for the new status quo. Physical places of work won't disappear, but they will be reimagined, as will the employee experience. Those typical hallmarks of success, like the corner office, also will have to be redefined in the future of work.
As the physical workplace transforms, so will traditional expectations around the way and the hours we work. The employee experience has amplified the need to evolve beyond face-time. As companies reinvent themselves and come to resemble a more hybrid model, not everyone will be expected to be working at the same time, whether online or in-person. They instead will work a schedule optimized to their own circumstances.
The future of work is about humans and technology working in tandem toward a brighter, more productive future. The shift toward a hybrid model of work will positively impact companies in three ways:
Talent over geography
A dedicated focus on employee-valued programs
A move toward environmentally conscious ways of working
Talent Over Geography
With an increase in telework, many companies will see the benefit of flexible work policies and opt to stay partially or fully remote. This means teams can source talent across time zones, expanding qualified candidate pools.
After piloting telework policies, businesses understand they can save money on overhead, offer better work-life balance to their staff, and hire from an expanding field of talent. They also can park the savings from rent and overhead into employee retention.
Businesses that require a physical office space will need to adapt, as well. Offices will no longer serve as the traditional desk-based workspace with a daily commute, elevators, and community kitchens. The new office space will evolve into hangouts for collaboration and connection to facilitate face-to-face bonding, comradery, and group thinking.
Where start-up culture once inspired open floor plans, large shared spaces, and meeting rooms, the need for social distancing will lead to new layouts. Companies that require in-office work may stagger employee shifts to accommodate fewer people in the workplace at the same time. Some may even choose to return to cubicles and plexiglass dividers, balancing safety measures with opportunities for productive interactions.
Focus on Employee-Valued Programs
Due to the immense pressure put on employees during the pandemic, many organizations have expanded their mental health and wellness offerings in creative new ways. For example, some employers are providing monthly virtual team meditations guided by leading psychology professionals. These flexible programs are valued by employees and include a clear commitment to the inclusive well-being of the organization as a whole. Leaders understand that showing authentic support to their teams enables them to do their best work with additional resources available as needed.
In 2020, wellness initiatives look different than they've ever been before. Teams used to bring in bagels once a week or set aside a section of the office dedicated to a creative safe space with comfy chairs or music playing. This year, wellness is a priority that addresses the emotional health commitment employers are urged to make to their employees.
Focusing on employee-valued programs clearly benefits employees' emotional health, as well as physical wellness. Before the pandemic, showing up at work was prioritized over staying home when sick. A 2019 QuickBooks Time PTO Survey found that 84 percent of employees with paid time off (PTO) still went into the office sick, and 33 percent said their employer created a culture of working while sick.
An overall emphasis on wellness will address holistic health as many companies help their employees navigate the stress and isolation that has come with quarantining. Employers caring more about the health of their staff during this time will create long-term trends that hopefully continue even after the pandemic ends.
Environmentally Conscious Ways of Working
Gone are the days of long commutes to and from the office in high-emission cars five days a week. Additionally, with the widespread adoption and growth of virtual events and conferences, many business trips similarly have been converted to virtual formats. This has led to a massive reduction in business travel that leaders such as Bill Gates feel will not return to previous levels even after the pandemic. The reduction in high-emission travel is already a notable benefit toward curbing climate change, and continued adoption of remote work practices will support this trend.
With the fate of large-scale gatherings still unknown, more and more companies will keep their events virtual. As both hosts and participants become more comfortable with virtual networking, that will become the norm, creating widespread efficiencies. A professional who once might have paid thousands of dollars to travel to an event now can virtually enjoy the same for less money, with a minimized environmental impact. That said, internal gatherings and celebrations are sparking new creative ways to engage virtually, together.
Although we finally areseeing a light at the end of the Coronavirus tunnel, the impacts of this pandemic will endure for years to come. The pandemic and months of quarantine will play a vital role in the evolution of modern office and work trends. Companies that adapt and innovate will see the best results (find out how technology has redefined remote work and training amid the pandemic). Agility will be rewarded with a more cohesive experience for employees, employers, and the environment alike.