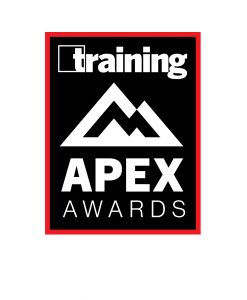 The Learning and Development (L&D) team at pest control services company Aptive Environmental created the Service Professionals' New Hire Training program in response to three challenges the Field Operations organization had been encountering:
High attrition of newly hired Service professionals (front-line pest control technicians) within the first four weeks of employment
Lack of time for Aptive's 43 branch managers to suitably dedicate to new employee training while trying to maintain day-to-day administration and operations, employee performance, and customer satisfaction
No company-wide established standard training program, material, or certification, leading to variation in service execution and customer experience, and complicated procedures for quality control and correction
Program Details
With these challenges in mind, the L&D team, with support from Field Operations senior leadership (COO, VPs, and regional managers) and subject matter experts (SMEs), researched, designed, developed, and launched the following program and all materials within 12 weeks:
A 10-day hybrid experience with alternating days of instructor-led classroom training and on-the-job shadowing and practice
Overarching topics for classroom instruction, including:
Aptive history
Core values
Service expectations standards
Standard service procedures and expectations
Pest and pesticide education
Proper equipment usage
Customer communication principles
Driver safety
Instruction on software and platforms
Assets, including:
Five training decks for five days of classroom training (including the creation of 249 individual slides)
Five facilitator guides with lesson plans
Eight asynchronous modules
A 145-question certification exam
A 52-card customer interaction scenario deck for in-classroom role-play and practice
Creation of the Operations trainer position to own the New Hire Training experience and staff for all locations; interview and hire candidates into the Operations trainer position; and construction of a three-day "train-the-trainer" program to train, set expectations with, and build camaraderie between cohorts of newly hired Operations trainers
This program was the first time Aptive had structured or implemented any training program of this scale. Aptive uses an alternating in-class (or virtual class)/in-field model that allows new employees to learn concepts and then immediately observe and practice those skills, tasks, or processes on-the-job with an experienced coworker. Every Service professional within Aptive has an Operations trainer they can reach directly for training or procedural questions in addition to their area manager.
Program reinforcement occurs both weekly and quarterly. Every week, Service professionals across the country gather (in some areas, virtually) in their nearest Learning Center for a training led by Operations trainers and area managers. These meetings often reinforce concepts taught in New Hire Training or retrain Service professionals on current trends in the area or across the company. Every quarter, L&D works with Field Operations senior leadership to refresh and provide clarified instruction in the form of slide decks and work aids on the seasonal pest treatment plan. Operations trainers then train the entire Service professional workforce—approximately 1,700 people—on the updated pest treatments.
Results
The program launched in March 2021, and by July 1, 2021, average first week attrition had decreased to 5.1 percent, below the targeted goal. In second quarter 2022, average first week attrition of Service pros was approximately 2 percent company-wide. Additionally, in Q2 2022, Service professional week four attrition was at 17.1 percent (also below the targeted goal), a -9.9 percent difference from Q1 2021 that is saving the company hundreds of thousands of dollars in recruiting costs every quarter.