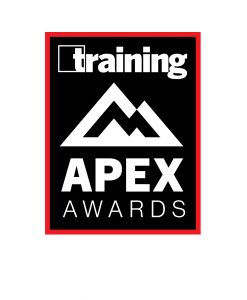 Arizona Public Service (APS) generates clean, reliable, and affordable energy for 2.7 million residents throughout the Southwest. The utility's T&D Apprenticeship Program trains and certifies apprentices throughout its Transmission and Distribution business unit. The Apprenticeship Program is designed around state and federal safety regulations, safety procedures, industry standards, best practices, and safeguards.
Program Details
Safety and Technical Training develops and administers the T&D Lineman Apprenticeship Program. The training provides employees with the knowledge and skills to become best-in-class linemen. It is registered with the State of Arizona Office of Apprenticeship and U.S. Department of Labor and complies with the 29 CFR § 29.5 Standards of Apprenticeship. The program was first registered in 1948 and has since evolved into an internationally recognized apprenticeship program as evidenced by the organization's performance at the International Lineman Rodeo.
The T&D Apprenticeship Program is an accelerated program designed to certify apprentices within 4.3 years versus the national standard of 5 years. While national standards mandate 144 hours of craft-related, in-class learning and 2,000 hours of on-the-job training, APS apprentices average more than 160 hours of in-class training and typically exceed the requirements for on-the-job training, job performance evaluations, oral boards, and testing.
APS apprentices master basic line work training; proper tool and equipment use; safety procedures, practices, and safeguards; transmission and distribution construction; and operation and maintenance. They also receive practical experience by touring various shops, such as the Transformer, Maintenance, and Meter Shops. In accordance with the registered program standards, each apprentice participates in performance-based and theoretical training through instructional programs provided by Climbing, Secondary, Hotstick, and Extra High Voltage Hotstick Schools. Upon completion, apprentices receive certifications from the U.S. Department of Labor, State of Arizona, and Electrical Training Alliance.
Two years ago, APS became one of the first utilities to require T&D linemen to wear full-body harnesses when climbing wood poles. This practice ensures the safety of employees should they lose their footing on the pole and become inverted by their fall-protection gear. Climbing in the new full-body harness system requires practice and changes in technique to enable the climber to reach the same horizontal distances previously achieved in the less restrictive traditional gear.
Results
APS achieved its 2020 safety goals in recording only two Serious Injury and Fatality (SIF) incidents and 15 OSHA Recordable incidents.
APS also demonstrated its excellence in safety and technical training in the 2019 International Lineman Rodeo (the 2020 competition was canceled due to COVID-19), which focused on safety work practices through a written exam and critical line skills, including climbing, pole work, and tasks using hot sticks rather than gloves. Of the 321 industry participants, APS apprentices not only placed in all related categories but were always in the top 10.