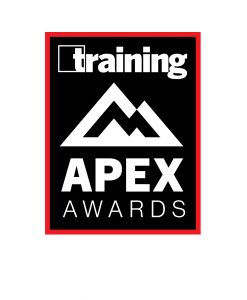 BankWest, Inc.'s Learning & Development (L&D) team onboards all new hires into the organization. Prior to 2020, onboarding was a day-and-a-half and covered HR paperwork, and technical skills such as clocking in/out and logging into the computer. New hire orientation was held quarterly in person for another day-and-a-half at the corporate office in Pierre, SD. Realizing that some new hires were not going through orientation until they had been at the organization a while—sometimes six or more months—BankWest decided it was time to reinvent onboarding and orientation into one program.
As a result, the L&D team launched a new New Employee Onboarding program, designed to address the "What's in it for Me?" aspect for new hires, educate them about the bank, and address technical knowledge and skills.
Program Details
On day one, new hires start by learning about the history of the bank. They have a tour of the facility and learn about the BankWest brand, mission, vision, and core values. New hires do not even touch a computer until late in the afternoon, when they learn how to clock in/out. Throughout the rest of the week, they are introduced to the different departments in the organization through video, and they process new hire paperwork. At the end of the week, new hires meet with their supervisor, get settled in their new office, and start the discussions about what their job duties will be.
Due to COVID-19, BankWest deployed a blended virtual and in-person classroom for onboarding, so branch staff could join via videoconference or Webex, while still engaging in the activities and learning the information. The employee's supervisor or other designated staff member assisted the new hire with logistical information and helped them connect to the videoconference/Webex.
In addition to watching the video introductions into the 130-plus-year history of the organization during onboarding, new hires participate in the Office Mystery game in BankWest's gamification learning management system (LMS), Centrical. After reviewing videos from top leaders (including the Chief Operations Officer, Chief Financial Officer, Chief Credit Officer, Chief Risk Officer; and SVPs of Sales/Marketing, Project Management and IT, Financial Services, Human Resources, Retail Banking, and Strategic Intiatives) that explain what each department does and who to contact, new hires take quizzes on the content presented while working through the game to ensure maximum retention of the material and to boost employee engagement.
New hires can complete the Office Mystery game any time in their first 90 days. Current staff also were assigned the game in 2020 and were asked to complete it as a refresher at their leisure. At the end of 2020, the game was completed by 51.7 percent of all associates.
Results
BankWest onboarded 54 new employees onboarded during 2020. Through reallocating resources during COVID-19 and utilizing virtual onboarding, BankWest was able to save 48 percent of its training budget for 2020.