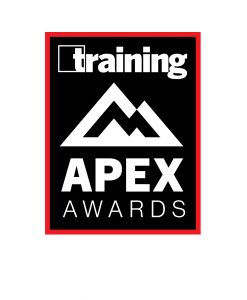 Cardinal Health is a global, integrated healthcare services and products company, providing customized solutions for hospitals, health systems, pharmacies, ambulatory surgery centers, clinical laboratories, and physician offices worldwide. EASEE is an acronym defining the Cardinal Health high-quality customer service model—Empathy, Acknowledge, Seek, Explain, and Establish—and serves as the basis for the organization's EASEE training program. EASEE training currently is utilized throughout 10 different business segments in Cardinal Health.
Program Details
This program leverages the Learning Center of Excellence (COE) strategic performance-based learning framework, which relies on a blended delivery model that includes:
Self-paced training to build knowledge and introduce performance support tools
Instructor-led workshops to build comprehension, allow discussion, practice application of concepts, and reinforce the appropriate use of performance support tools
Activity checklists and the use of the Axonify microlearning and discovery platform to reinforce concepts over time
EASEE was created with two learner audiences in mind: front-line employees and people leaders. Learners complete a Web-based module for each EASEE letter on the Cornerstone platform and a virtual instructor-led training (vILT) focused on applying these lessons in a corresponding Web-based module. For example, learners watch an empathy Web-based module, then participate in a vILT that engages them in activities centered on demonstrating the empathy skill set. The program's vILT scenarios, discussion questions, application concepts, and performance support tools are customized to each business unit.
Virtual branching scenarios were developed to provide situation-based application of EASEE skills for customer service and order processing audiences. Participants act as the representative and assist a "customer" through realistic job scenarios that range in complexity. Based on participant responses, the "customer's" mood and audio tone change accordingly.
The EASEE curriculum designed for people leaders was created to equip leaders with a skill set in coaching and providing feedback through the context of EASEE skill set demonstration. With this skill set, they reinforce EASEE skills daily with their team.
Axonify reinforces EASEE through questions rooted in microlearning and gamification methodologies. These questions are designed using identified Key Learning Points (KPLs) on a Level 1-3 basis and vary in question type (e.g., multiple choice, multiple answer, fill-in-the-blanks). EASEE communities of practice in Axonify contain various job aids, resources, and participant guides learners can access while in training and on the job.
EASEE also is reinforced by performance measurement strategy within business units. Quality Assurance teams audit customer service representatives using their audit form that contains EASEE skills such as providing empathetic responses, acknowledging the customer's situation, and setting appropriate expectations with each customer. Scores are used for coaching and feedback to improve representatives' demonstration of EASEE skills.
Results
Cardinal Health has seen more than 1,750 EASEE course completions. The company assessed EASEE transfer to the job by comparing a group of Cardinal Health at-Home Solutions (CHHS) new hires trained in EASEE and a group of new hires who were non-participants. Analyses indicated EASEE-trained new hires had 5.26 percent higher active listening and 6.41 percent higher positivity quality assurance indexes than non-participant new hires.
CHHS EASEE-trained new hires were closer to achieving the business unit's target of a 4.4 average customer-provided After Call Survey (ACS) score (score of 4.33) than non-participant new hires within their first three months on the job (score of 4.25).
In fiscal year 2022, the average HR Service Center (HRSC) Voice of the Customer (VOC) for each metric (i.e., resolution satisfaction, efficiency, customer service, and overall service) achieved at least an average score of 85 percent:
Resolution satisfaction was 85 percent.
Efficiency was 89 percent.
Customer service was 94 percent.
Overall service was 88 percent.