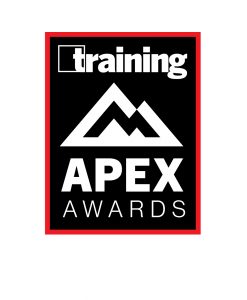 A global provider of outsourced call center solutions that specializes in first-party and third-party debt collection, fraud, and customer care services, CBE Companies, Inc., created its Entrepreneurial Operating System (EOS) Training to ensure everyone in the organization understands its vision and how it's planning to get there, and to guarantee accountability so everyone executes that vision every day.
Program Details
EOS Training is a nine-part program offered companywide. Comprising a blended instructor-led virtual classroom, computer-based self-study, and gamification, it is designed to help all employees understand the six key components in the EOS Model, including:
Vision: Communicate it frequently and ensure it is shared by all.
People: Make sure the right people are in the right seats.
Data: Use scorecards and measurables to understand the business.
Traction: Establish goals and have effective meetings to be accountable.
Issues: Identify, discuss, and solve any issues.
Process: Document critical processes and have them consistently followed across all levels.
The Accountability Chart is an organizational chart that focuses on functions and roles rather than people. Once the structure was in place, it was easy to fill in the people who understand the role, want it, and have the capacity to do the job: right people, right seats.
Measurables for each team include consistent weekly team meetings adhering to the same agenda, creating three to seven quarterly goals (called "Rocks"), and completing 90 percent of created to-dos within that week.
The Meeting Pulse is a structured process for a weekly 90-minute meeting. During this meeting, participants get updates; review to-do items, Rocks, and the Scorecard; and, most importantly, learn to utilize a process called IDS (Identify-Discuss-Solve), which helps employees solve problems quickly.
Program reinforcement includes the Vision/Traction Organizer, a quarterly, companywide meeting. During this meeting, the company's 5-Year Target, Marketing Strategy, 2-Year Picture, and 1-Year Plan are communicated.
Overall, EOS promotes a culture of inclusion, accountability, and collaboration within CBE Companies and helps develop the great people needed to achieve a great vision. In addition, it helps strengthen the organization and the individuals who comprise it by fostering systemic behavior change.
Results
In one quarter last year, CBE Companies employees accomplished 339 Rocks and created 855 weekly to-do's due to weekly meetings.
The company also has reaped financial results it has never seen before, including:
Profitability increased every month last year for the first time in several years.
Profitability last year was more than twice the goal.
Information Technology expense, as a percent of revenue, was positive for six out of seven months last year.