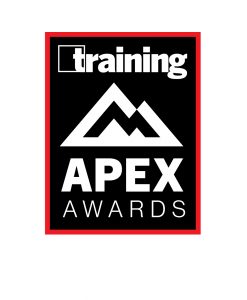 Emerging Leader is inclusive of employees from all nine lines of business at ESL Federal Credit Union, laying the groundwork for a common language of leadership throughout the organization. Some 51 percent of current managers and supervisors have completed the program, which teaches fundamental leadership concepts rooted in the credit union's leadership competencies.
Program Details
Emerging Leader is the entry point into ESL's progressive leadership development track. Candidates must obtain senior manager approval to participate. Prior to formal instruction, Learning and Development (L&D) administers a leadership assessment that informs the participant on individual strengths and areas of opportunity. Participants use this information to create an Individual Development Plan (IDP), which also identifies opportunities for continued practice and growth beyond the formal instruction.
The core learning experience lasts for 16 weeks and utilizes a blend of methodologies, including instructor-led workshops, gamification, social learning, panel discussions, and a capstone project. To ensure the best possible learning experience, each cohort has a cross-functional mix of participants. Accountability partners are assigned within the cohort, providing peer support toward goal achievement.
The curriculum features a series of experiential events where learners engage in physical, as well as mental, activities. They design, build, and fly helicopters to explore leadership style. They complete a survival simulation to learn the constructs of creating a win-win. They learn and play a card game in complete silence to realize the subtleties of communication. They reflect on effective skill application by engaging in storytelling. In-person workshops are augmented with "Insights in Action," which include podcasts and a social learning platform.
Reinforcement starts immediately and continues throughout a participant's career at ESL. Current participants are asked to share their experiences in skill application on a social networking platform moderated by the facilitator. They keep a leadership journal in which they reflect upon meaningful lessons, and they perform teach-backs for their individual managers. After completion, participants work toward fulfilling their five-year Individual Development Plans, which identify specific leadership goals. Current and past participants receive a monthly e-newsletter highlighting a concept from Emerging Leader. In addition, every graduate receives ongoing monthly boosters and leadership nudges from L&D.
The senior vice president of Human Resources and Community Impact markets Emerging Leader to her C-suite peers and to functional managers across the organization. Twice a year, she highlights the program to her peers, reminding them of the program goals and their supporting role. During the annual talent review process, she does the same with all functional managers throughout the organization. The president and CEO is involved in facilitation of the program at the midpoint—when he drives a panel discussion with participants—and the capstone event, where he draws connections between participant learning and the roles of the C-suite.
Results
A combination of Kirkpatrick Level 3 surveys, manager interviews, and direct observations indicate an 86 percent increase in leadership competency usage among graduates. Some 16 percent of Emerging Leader alumni have received the ESL Honors award, bestowed only to those who demonstrate true excellence, service, and leadership—behaviors that position them to move into future leadership openings.
In 2015, 56 percent of all leadership positions were filled from within. By 2021, six years after Emerging Leader began, that number had increased to 83 percent. Additionally, ESL's diverse promotion percentage increased from 17 percent to 21 percent during that same time period.