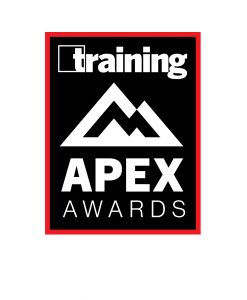 Fraud continues to be a big topic for financial institutions. During 2021, BankWest, Inc., identified a need to disseminate information regarding fraud to staff more quickly and efficiently. In response, BankWest launched a weekly internal podcast called Fraud Talk in June 2021, held "fraud roadshows," and developed mandatory courses in its gamification platform. All employees in the organization, no matter their division, are trained on Fraud.
Program Details
Taking place every Friday, each Fraud Talk podcast episode is 5 minutes or less and covers real-world scenarios BankWest faces as a financial institution and as an industry. Two to four questions after the podcast reinforce the topics. This is the first time BankWest has provided training via podcasts. Out of 360-plus employees, the average view for each episode is around 200, more than half of the staff population. All staff members have access on-demand to all episodes via gamification platform Centrical's mobile app.
A Learning and Development (L&D) facilitator and BankWest's Fraud Division manager traveled to all BankWest branch locations for a fraud roadshow to meet with the branch staff. During these roundtable discussions, the manager covered recent fraud schemes/scams, while the L&D facilitator talked about counterfeit currency. Each branch was provided a book with "prop money" to keep onsite, the idea being that through more exposure to what fake money looks and feels like, staffers are better able to identify fraudulent bills if they come into the bank.
BankWest also developed mandatory courses in its gamification platform. These courses covered topics such as types of fraud and what to look for. Learning check points throughout the year include questions about fraud awareness, so L&D can identify areas that require further training.
Results
Through continuous communication with staff via podcasts and training, BankWest was able to decrease the actual loss to the institution from fraud vs. the potential loss by 87 percent.