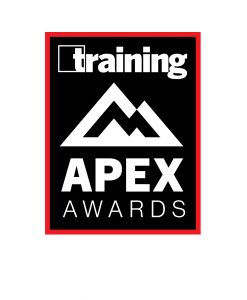 Over a few cycles of real estate investment trust Gables Residential's Employee Experience Survey, it received feedback from associates across the organization that they were struggling to identify development opportunities and pathways to promotion.
So in the latter half of 2020, the Talent & Development (T&D) team worked with focus groups of front-line associates in key roles to identify specific areas where additional support was needed. The team then rebuilt the required learning plans with better content and deployment schedules, enhanced communication with all levels of leadership around required learning, created clear Development Journeys for every front-line role, and provided added coaching and support resources for all people managers.
Program Details
The T&D team began by asking members of the focus groups to keep track of and provide feedback on their key tasks. During weekly meetings, T&D asked the groups to help the team understand not only what they did but why, how long it took them to learn it, and how soon in their tenure they needed to learn it. T&D then used that information to create a draft learning plan for each role. The team took those draft plans to the next-level focus group to vet them for accuracy, determine any significant gaps, and identify appropriate timing for deployment and due dates for each course in the learning plan. Once T&D identified the gaps, it was able to create new Development Journeys for each of those roles.
Each Development Journey is designed to do more than simply fill gaps in skill development; these are roadmaps for associates so they can identify their next steps, and what to do to achieve their next level. Each Journey has elements designed to stretch skills, enhance understanding, and provide regular interaction with and guidance from leadership. Associates working on their own growth also are encouraged to use their Development Journey to guide their quarterly check-ins with their direct supervisor as a way of sustaining growth and enhancing communication. In the short term, this informs any goals they set; in the long term, both supervisors and associates own their part of the Development Journey and work to make progress year over year.
A bi-product of the Development Journey approach has been to create "learning ambassadors" among the associates who were part of the focus groups, essentially creating spokespeople for Gables Residential's Development Journeys. This approach is significantly different from anything the organization has done before.
The SVP of HR & Training played a significant role in marketing Development Journeys to senior leadership. The ongoing support of Gables Residential's senior group was even included in the organization's Succession Planning initiatives that started in 2021.
Results
When T&D began its work with the focus groups in 2020, only 55 percent of associates felt they had opportunities for advancement at Gables Residential. The feedback from second quarter of 2021 showed that 62 percent of Gables Residential associates felt they have opportunities for growth and advancement.
Gables Residential also has seen a 5.4 percent increase in employee referrals, and 90 percent of associates indicate they are "Proud to work for Gables." Additionally, Customer Net Promoter Scores increased by 8.8 year over year.