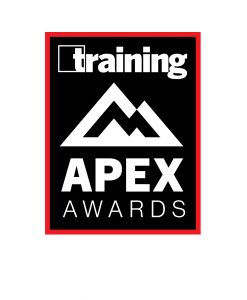 Gilbane Building Company's Manager Essentials training program aims to reduce overall employee turnover by establishing a culture of manager effectiveness that will positively affect employee engagement and retention. The manager training program runs twice per year with 55 to 65 new managers companywide per cohort.
Program Details
Selected new managers complete a six-month learning program combining formal and experiential learning with manager support and feedback. Each month, participants focus on a specific skill and participate in formal learning (either self-paced or virtual instructor-led), monthly skill check-ins with a guest speaker, and regular coaching sessions with their managers. Topics include workload management, effective communication, accountability, change management, and collaboration.
Participants utilize the 70-20-10 learning model to develop the skills and behaviors learned during formal training and implement them into their daily jobs with both their managers and their direct reports. This involves continuous self-reflection and application to build these skills and promote behavior change. The program features:
A pre- and post-assessment that both participants and managers of participants complete to assess the participant's level of experience/confidence demonstrating skill in each of the subject areas.
Conversation guides that include documents to review core concepts, reflection questions, and application suggestions for participants to utilize beyond program completion.
Coaching fundamentals guide, a document for managers of participants that offers tips on how to guide participants throughout the program and ensure they are implementing the skills learned.
Formal learning, including two to four hours of formal training each month via self-paced courses or virtual instructor-led courses that focus on each skill area.
Monthly check-ins to assess key takeaways, review how participants are implementing what they have learned that month, and discuss how this skill development is helping participants become better managers.
Bi-monthly manager check-ins with participants' managers to review and discuss how to coach participants and offer guidance to ensure participants are actively implementing skills learned.
Participants meet monthly with the Talent Management specialist and a guest speaker to discuss key takeaways from that month's topic and trainings. Participants learn from an organizational leader how to effectively implement these strategies into their daily lives as new managers. Participants share personal experiences about how they are applying the knowledge and skills learned with their direct reports, as well as reflect on areas they need to improve. These check-ins foster open dialogues that allow managers to receive feedback and coaching from peers, HR leaders, and executives on how to handle difficult situations, as well as what they could do differently to improve in certain skill areas.
Post-program completion, new managers are guided to complete an assessment to understand where their strengths lie and where they need to continue to develop to best serve their team. This assessment measures a manager's capabilities as a people manager, via the manager themselves and their manager. Once both parties complete the assessment, they discuss findings and identify areas for development. This is done via setting performance goals and creating career development plans to continue skill development and knowledge attainment post-Manager Essentials.
Results
Some 85 percent of managers have indicated that they have developed a stronger sense of awareness about what it means to be a people manager that they did not have prior to completing the Manager Essentials program.
Of the managers who have completed the program, 11 percent have left the organization vs. 22 percent who did not complete the program and left the organization.