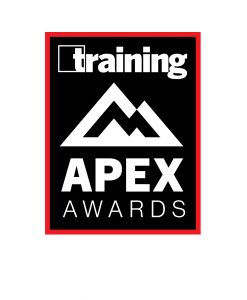 Huntington Bank successfully completed its largest organizational acquisition to date, with more than 6,000 new colleagues trained and fully prepared for day 1 readiness. Due to COVID-19 restrictions, the Learning and Development (L&D) team had to pivot from using traditional training methods to a blend of online and virtual training events, including video walk-throughs, subject matter expert (SME) virtual sessions, and simulations.
Program Details
The L&D team led a year-long effort to organize and create onboarding and training to ensure all acquired colleagues were ready for a single-day conversion to Huntington Bank's name, systems, and processes. Training to prepare all 6,000 colleagues occurred withing the three months prior to conversion.
The team took both a centralized and decentralized approach:
Enterprise onboarding was addressed in a centralized fashion, with the L&D team leading efforts, designing and developing training, and managing colleague participation. Enterprise onboarding for both colleagues and leaders was developed with executive leader input and support. The blended solution was assigned to all colleagues. The online onboarding focused on culture, HR systems, and a few regulatory training items. Virtual, live Welcome sessions were included in the enterprise onboarding for all colleagues. These sessions included a welcome to the organization by the CEO and executive leaders; introduction to culture and diversity, equity, and inclusion (DE&I) overviews; benefits information; and training plans. In addition, virtual, live events were held for leaders with a focus on important leadership topics.
A more decentralized approach was used for segment training. The L&D team assigned a Learning leader to consult with each segment on training needs for integration. L&D assisted with the creation of training plans for all job families, keeping day 1 readiness in mind. The training plans included a mix of online and virtual live events with L&D-created content, user-generated content, subject matter expert walk-throughs, and video demonstrations. For the largest segment—the branch network—L&D used virtual methods to deliver a significant amount of training. Existing branch training was evaluated, streamlined, and delivered with a focus on customer service and systems readiness. The team quickly pivoted to a virtual approach and created system simulations to address system training.
All training items were tracked by L&D, with weekly reporting to leaders to ensure colleague preparedness.
For reinforcement, an integration-specific intranet site was set up to house critical information, updates, and reminders for the new colleagues. Through the "ambassador" program, each branch had an experienced branch manager and operations person assigned to support colleagues of the branch. The ambassadors met with the teams virtually each week leading up to integration, then went on-site to each branch for support for two weeks post-integration. After that, they remained available in a virtual fashion.
Post-conversion, most segments hosted follow-up training for colleagues to reinforce previous learning, as well as introduce new topics.
Results
More 133,000 learning items were assigned, and 1,650-plus virtual training sessions were held. Enterprise onboarding ended with a 98 percent completion rate, and segments achieved a 95 percent completion rate for pre-conversion training.
Post-integration, Huntington Bank retained 99.4 percent of business banking balances and 90.2 percent of consumer balances, both exceeding the organization's goal of 90 percent.