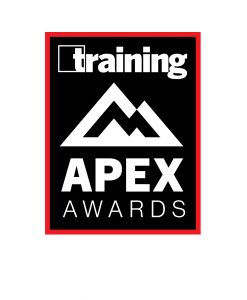 Asset management firm Navient sought to transition more than 9,000 employees to a unified system for collaboration with meetings, chat capabilities, calls, and documents and to increase the use of cameras in meetings by 25 percent to promote face-to-face engagement within the virtual setting.
To accomplish this, the company created Microsoft Teams Implementation End-User Training. This was the firm's first system implementation with this extensive of a learning plan for end-users, both during the implementation and post-implementation phases, which also launched the full-scale use and availability of Webcams for employees.
Program Details
Training for the Microsoft Teams conversion took a phased approach:
Phase one consisted of high-level awareness and system functionality overviews. Learning sessions began 80 days prior to go-live, and additional sessions were added throughout this time to provide progress updates, answer questions about functionality, and share live demonstrations.
Phase two was the official end-user training that began two weeks prior and extended through the first week post-go-live. Interactive training sessions were held live via Webinar. They consisted of three total trainings to chunk the most prominent parts of the system into categories. In addition, an interactive learning simulation was made available for learners to practice common tasks and receive right/wrong prompts for navigation. Learning guides also were developed for those who prefer print-based learning instructions.
Phase three is the post-go-live training initiatives that are still in practice. This includes monthly live learning sessions, microlearning videos for targeted topics, blog posts, articles, and other resource sharing hosted on a Microsoft 365-focused Website.
Short-term reinforcement for this training program included:
A structured communication plan that included weekly announcements in the all-employee newsletter, internal Microsoft 365 site, and Webinar offerings
Live training sessions via Webinar to support both whole system learning and sessions for targeted learning topics focused on key functions
"Teams tip of the week," an animated short video providing instructions for a productivity function of Teams
A monthly live training session with an "ask the expert" segment for on-the-spot problem solving
Content creation for new release features as they occur, with targeted communication, tips, and how-to instructions
Long-term reinforcement (after six months) included:
Adding/maintaining training recordings, blog posts, articles, interactive learning activitie,s and a variety of microlearning-style videos and interactions hosted on the internal Microsoft 365 training and information site
Continued weekly Teams tips and ask the expert segments
Polls and surveys/feedback using Microsoft Forms to continually assess system learning needs/desires
Continuous build of learning collateral for new releases and features that impact productivity
Results
In the recent application period, Navient tested, trained, and seamlessly implemented the Microsoft Teams platform to more than 9,000 end-users with zero disruption of service or outages within the planned transition period.
After the initial rollout of the program, Navient experienced a 50 percent increase in Webcam usage during virtual meetings for a total of almost 84,000 hours spent in interactive video meetings across the company.