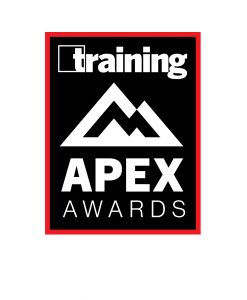 Flooring manufacturer Mohawk Industries, Inc.'s RISE development program was designed for high-potential managers, senior managers, and directors to enhance the competencies necessary to lead others. The objective is to accelerate the development of the company's next generation of senior business leaders.
Program Details
Participants are led through a developmental journey over six modules during a year that starts with self-discovery; travels through influence, the power of communication, innovative thinking, and continuous improvement; and concludes with a capstone business simulation that ties all the learning together.
Module 1 focuses on learning how to lead yourself so you can more effectively lead your team.
Module 2 concentrates on how to be an influential leader and how to identify behaviors that produce results and lasting change.
Module 3 covers learning how to communicate strategically, how to manage and find meaning, and how to tell a persuasive story.
Module 4 is centered around design thinking and innovation. Members learn tactics around those skills and the importance of increasing empathy and inclusion in their decision-making.
Module 5 is an interactive simulation based on continuous improvement principles. Teams compete to come up with the most innovative and streamlined process while actively using continuous improvement principles such as 8 wastes and root cause analysis.
The program completes with another interactive competition business simulation that ties in key takeaways from all the modules. Learners need to use their leadership expertise to manage people, operations, and customer needs through three to five business cycles with varying trials along the way.
There were three cohorts spread across Mohawk's corporate and Flooring North America divisions, with participants from HR, Finance, Marketing, IS, Supply Chain, Residential, Commercial, Resilient, Wood & Laminate, and Home.
Each cohort meets for their modules every other month and spends a few minutes in conversation with the program manager about their key takeaways; how they've used the information; and the impact it has had on them, their team, or their function.
Additionally, each cohort has a Microsoft Teams site where all documents relevant to the modules are housed. Participants are encouraged to utilize their new network of peers to discuss business challenges and gain new perspectives.
During the leadership perspectives kickoffs, executive leaders share their specific leadership style and what they are looking for in future leaders, why the RISE program is an important investment in their future, how development has impacted them and their career, and also some insight into how to approach development and new ideas.
The leadership panel discussion during graduation features C-suite successors who are in Mohawk's LEAD program. They answer the cohort's questions on topics that range from their experience and best leadership book to perspectives on business challenges.
Results
The RISE program has a 94 percent retention rate, and 50 percent of employees in the program are promoted during the duration due to increased leadership capabilities.