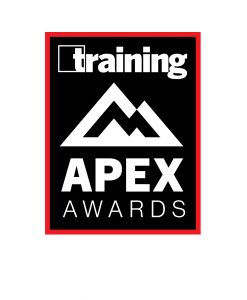 Pest control services company Rollins created a specialized leadership development program to develop leadership capability for high-potential leaders within the organization. The Region Manager Development Program (RMDP) aims to foster internal promotions and help develop branch and sales managers into multi-unit region managers.
Participants who complete the program successfully will be able to:
Understand the role of a region leader and the impact it has on the organization
Transition into a multi-business-unit leadership role
Lead a region to drive high levels performance
Influence effectively at the next level of the organization
Apply the basic principles to drive the customer experience
Program Details
RMDP is a 12-month, cohort-based program that consists of four stages and culminates with a three-day capstone event.
Stage One is designed to help learners develop and implement the High-Performance Organization (HPO) process. This includes creating a vision and purpose, leading remote teams, developing critical and strategic thinking, driving for results, and developing a meeting cadence for the team they lead.
HPO as a process is designed to help leaders:
Function more cohesively as a team by applying the 7 Key Behaviors of a High-Performance Team
Create clarity in the organization about what and how to achieve results
Over-communicate clarity with consistency to drive alignment
Reinforce clarity to ensure it becomes a way of life for every employee
Stage Two is centered on creating a great leadership experience. Specifically, this stage includes:
Understanding the role of a multi-unit leader
Building emotional intelligence
Relationship building
Creating organizational alignment
This in-person experience takes place in Washington, D.C., with a visit to the Holocaust Museum and Lincoln Memorial to reinforce leadership principles.
Stage Three focuses on the transition from leading a single operation to leading a business group. This stage of the program helps learners:
Grow their business acumen
Lead change
Think more strategically
Diagnose business situations for realignment, sustainment, or turnaround
Understand higher-level operating skills
Stage Four, Operating and Influencing from the Top, helps learners understand and develop effective communication skills and executive presence. This event is a vendor-led experience to practice and apply presentation and communication skills with structured peer and facilitator feedback.
Additionally, all four stages include:
Monthly cohort check-in meetings with the facilitator, their direct supervisors, and brand presidents
On-the-job assignments, eLearning, and self-paced reading
Six months of individualized, external executive coaching for personal development not covered in the RMDP curriculum
Pairing and monthly meetings with an internal executive mentor. This includes the chairman of the board, CEO/vice chairman, and brand presidents.
The capstone event is the final element of the RMDP program and is focused on driving the customer experience. This includes:
Strategy and methodology for operational excellence, proactive service, and creating peak moments
Recap and review of all key RMDP elements
This final experience is an in-person event held at Walt Disney World in Orlando, FL, where learners participate in behind-the-scenes tours to see Disney's approach to leadership throughout its operations. The graduation and celebration event takes place with Rollins' senior executives, brand presidents, learners' managers, and the Rollins Learning Team.
All RMDP participants are required to request 360 Feedback and Team Culture Assessments to gauge the current state of the organization they lead or are a part of in their role. These assessment results are used throughout each stage to better tie in their individual strengths and opportunities to develop as a leader.
As a requirement of Stage 4 and capstone events, Region Manager Development Program participants must submit a post-graduation action plan to their executive mentor and brand president. Their leaders, the brand presidents, provide feedback on the action plan and check in with RMDP graduates through one-on-ones and field visits.
The RMDP program also hosts a six-month post-graduation check-in to support learners, reinforce key learnings, and encourage ongoing support and networking.
Results
As a result of the program, Rollins achieved several learning and business outcomes, including:
97 percent retention of RMDP graduates
An average of 30.83 percent revenue and profit combined target for all RMDP graduates' regions against a Rollins goal of 23 percent
Rollins' executive team, in support of the company's Diversity, Equity, and Inclusion/Workplace Inclusion effort, encouraged brand president to actively recruit a more diverse RMDP candidate pool. As a result, 11.7 percent of participants in RMDP Cohort 1 were women or people of color; Cohorts 2 and 3 , respectively, increased to 20 and 38 percent women and people of color.