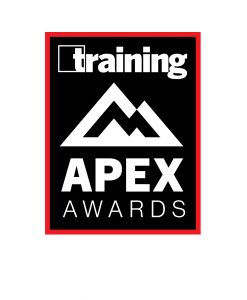 Southern New Hampshire University's (SNHU) Elevate is a blended learning program for individual contributor staff that personalizes learning aligned to the university's core competencies, empowers career exploration, and develops team members to lead at all levels. Elevate is available to all 2,400 individual contributors across all business units at SNHU.
Program Details
Employees personalize their development experience by choosing to focus on developing in any of nine core competencies or by engaging in a series of career development planning exercises.
Throughout the program, the learner partners with their leader to gain insight into their performance and determine where they will see the greatest return on their investment.
Once they have selected a competency, the employee further personalizes their experience by selecting from a menu of course offerings that can be tailored to their personal development needs. Employees also can access a career planning self-service suite. There, they connect passions, skills, talents, and interests; identify types of work they enjoy engaging in; and are connected to departments and roles where that type of work happens.
From there, employees conduct a gap analysis and build a plan to improve their candidacy and qualifications for roles of interest.
Elevate is highly gamified. Learners earn badges and meta badges, and move their token across a map in SNHU's Compass Learning Management System (LMS). A participant doesn't earn their badge for the learning until the leader observes them applying the learning on the job for a minimum of 30 days. Participants earn meta badges after earning three badges. It takes approximately one year to 18 months to earn three badges. The participant must demonstrate all the competencies from all three badges earned and have a reflective conversation with their leader before being certified for the meta badge.
Results
SNHU's Level 3 survey indicates that participants demonstrate an aggregate 80 percent increase in positive behaviors on the skills learned in Elevate.
In fiscal year 2022, SNHU retained 85 percent of all individual contributors and 95 percent of individual contributors who participated in Elevate.