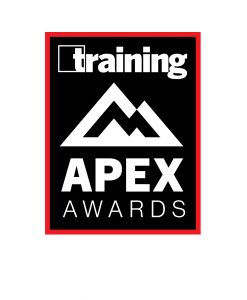 The Sales Ascent program at Spectrum Enterprise—a national provider of scalable, fiber technology solutions serving many of America's businesses and communications service providers—is an upskilling initiative for all tenured sellers (defined as any seller not currently in Sales Basecamp) beyond their first 12 weeks with the organization. The program blends formal and informal learning experiences to move the needle on performance gaps, drive revenue, and increase new products sold per opportunity.
Program Details
In 2022, the Corporate Visions Inc. (CVI) methodology served as the Sales Ascent program's foundation. Each seller receives release time (dedicated professional development time) and is expected to complete two hours of professional development each month through a combination of available experiences.
Each month of the year focuses on a single topic from the CVI curriculum such as "Why Change?" or "Why You?" Spectrum Enterprise introduces sellers to eLearning related to the topic in focus and invites them to participate in team meetings, receive coaching, network and learn from one another, and compete in a monthly mini-booster quiz game to deepen learning.
The foundational CVI content consists of traditional eLearning, meetings-in-a-box, and coaching guides.
New, in-house elective content development supports the goal of "learn anything, anytime, anywhere" through the use of microlearning, moment-of-need resources, and social learning. Emphasis is on creative design that leverages storytelling and game mechanics to make learning bite-sized, applicable, and fun. Elective learning includes:
Podcasts
Sales in 60 Seconds: A fun, beat-the-clock-style game show where the contestant sales rep has 60 seconds to teach something before times run out.
Tell Me About a Time: A sales leader or rep tells a story of two to four minutes about something they learned from a client interaction.
Videos
Two-torial: A field expert shares a single, focused lesson or software demo in less than two minutes.
Spend a Minute—Save an Hour: Each video is 60 seconds and covers time-saving tips such as customizing a Salesforce dashboard or auto-logging e-mails.
Microlearning
Worst Day Ever: The learner guides a character through a typical day-in-the-life of a seller.
Objection, Your Honor!: A quiz-style game in a courtroom setting.
Old Prospector: The learner plays the main character, Old Prospector, and prospects for new business, makes choices, selects dialogue, follows processes, interacts with clients, etc.
Social
Virtual Coffee Chats: Learners are organized into cohorts of six to 10 sellers who all work and live in a similar geographic area. These brief 15- or 30-minute virtual sessions are user-driven. It's a buddy system with a whole group of buddies.
Results
Quota Attainment: Metrics show an average 22 percent increase in quota attainment among the new communities versus the baseline group.
Average New Products Sold: Sales Ascent communities are outperforming the baseline group by an average of four more products sold per sales opportunity, per sales representative. This represents a 68 percent year-over-year increase in new products sold.
Sales Opportunity Conversion Rate: As of August 2022, the company saw a 28 percent increase in sales conversion rate, year-over-year, when graduates of the program from January to August 2022 were compared to the baseline group.