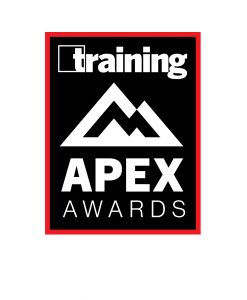 eCommerce company Spreetail's Business Development Department focuses on outbound sales and needs to quickly scale up new hires to begin closing deals. For Business Development onboarding, Spreetail developed a robust 30, 60, 90 ramp-up program that aligns with its business sales cycle. After teams complete the company's three-day all-employee onboarding, they move into a two-week onboarding where they certify in the first critical stage of their sales cycle: vendor calls and reach-outs.
Program Details
New team members complete 15 hours of mock vendor calls and gradually ramp up the objection level and call complexity over this time. They then certify with their manager before moving on. This is critical to ensure they have the eCommerce, Spreetail, and technical knowledge to move to the next phase. It also shows their growth and knowledge gained. For the next month, learning focuses on Spreetail's sales strategy and approach to ensure team members understand the company's internal processes. The last 30 days is focused on how to close the deal and execute the sales cycle.
Week 1: Review of vendor summit, IT access, and system and eCommerce knowledge. Features 23 online courses, peer-to-peer learning, and classroom learning to practice eLearning concepts.
Week 2: Demonstrate beginner-level elevator pitch, develop core HubSpot knowledge of calls, call connects, meetings, and deal pipelines. Features 20 online courses, classroom learning to practice and answer questions on eLearning, five elevator pitch practice sessions with recorded pitches, and feedback from managers and trainers on pitches. Learners are certified.
Week 3: Brand analysis and beginning of the full pitch training/coaching. At this point, the new hires are moved to phones and expected to make 60-plus calls a week, leaving voicemails with sequenced e-mails, and logging all interactions.
Week 4: Team members are taught and practice daily the intermediate to advanced pitch and focus on getting the further details on calls. This is done with trainers, coaches, and managers. They maintain 60-plus calls a week, voicemails, e-mails, and logging activity.
Week 5: Pitch certification week—managers test and certify team members on their pitches.
Week 6-8: Team members' target moves to 100 calls a week with sequenced e-mails and logging information. They learn more about the specific process of leads and have daily coaching sessions.
Week 9-12: Team members have weekly coach check-ins, call expectations, and are expected to hit a certain threshold in deals.
Results
Spreetail aims to retain 95 percent of new hires in role for 1-plus years. It is at 93.6 percent since program implementation.
Closing of the first deal is another key metric as it will get product in the door and ready to be sold. Since program implementation, Spreetail has seen the time of the first deal closure decrease from 6 months to 65 days.