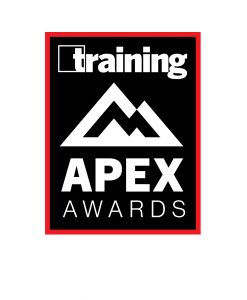 IT services, consulting, and business solutions provider Tata Consultancy Services (TCS) developed its virtual Design Thinking for Growth & Transformation training program to meet the organization's needs for a sizable pool of Growth and Transformation Consultants who can spearhead growth and transformation engagements with new and existing customers. The program is applicable across all TCS business units and geographies.
Program Details
The program applies to associates with more than 15 years of experience—contextual masters who have the potential to be thought leaders, reimagine customer businesses, and spearhead transformation programs. Such associates are identified and nominated by business unit leaders for the program. The 12-week program is 100 percent virtual, team based, and immersive, with each team bringing its own business unit challenge/theme. The program follows a modified version of the Stanford D School/Idea Design Thinking (DT) approach:
For every new concept, participants come up with implementation stories.
A batch is divided into small focused groups with customized Microsoft Teams channels for each group.
Each group identifies a business problem relevant to their business unit and validated by unit heads. Groups then work on this theme and create deliverables that culminate in a Minimum Viable Product (MVP) demo. Teams come up with customer offerings, and, in some cases, they implement them with their customers during the workshop.
Synchronous Webex training sessions are conducted with hands-on activities shared in the form of editable PDF workbooks.
At the end of every milestone, groups make presentations, and in Immersion Sessions, facilitators share feedback with each group on what can be improved or added to their work-in-progress solution.
Tools and templates are uploaded in Teams channels, along with additional asynchronous resources with reading materials, case study videos, and learning cues.
Each group is assigned mentors who are with the participants throughout the DT journey, guiding, nudging, and inspiring.
Leaderboards are shared to keep participants engaged and alert to the progress made by their respective groups.
Expert connects and internal tool demos are shared with participants so they leverage the already existing expertise within the organization. Networks are built in the process.
Experts are brought in to share real-life DT case studies and best practices for conducting customer-facing DT workshops.
Participants are not only taken through the Design Thinking process but also are trained to create business ecosystems and request for proposals (RFPs), and market their solutions. They are enabled to create vision-to-video collateral. Each team has a mentor and is provided sandbox environments, along with ecosystem partners for them to design the blueprint and MVPs.
Peer-to-Peer Reviews are shared though apps, and groups are encouraged to collaborate and learn from each other.
Business unit leaders serve as panelists for the final presentations. Each panelist chooses the business area or solution they want to evaluate, and some solutions directly win sponsors.
Even after the workshop is over, a vibrant DT community is maintained for participants across batches where they share experiences and network to come up with more DT transformations.
Results
A total of 2,500 senior personnel who have influence in shaping the business unit and customer operations and coming up with new offerings and products for TCS have been trained so far. The organization has seen participants' mindset change from:
Order takers to agenda setters
Siloed thinking to ecosystem thinking
Industry vertical solutions to purpose driven
Profit centered to value centric
As a result of the program, 10 new offerings/products were released in the last year, and many patents were filed as an outcome of the Design Thinking exercise.