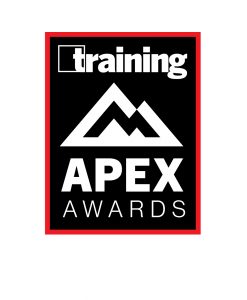 Ascend Federal Credit Union updated its "Onboarding Experience" in 2020 to ensure employee safety in light of the COVID-19 pandemic. This program applies to employees across all operational areas of the credit union and varies based on their employment position as either a new hire, an employee moving into a new role, or a new manager.
The Onboarding Experience aims to turn employees' first days in a new position into a memorable experience by celebrating their accomplishment and is designed to set employees on a path for success with the organization.
Program Details
New and Transitional Employee Onboarding
Once a position is accepted with Ascend, the new employee engages with Training team members, gaining information on what to expect on their first day of work, as well as sharing information about themselves. A video welcome message from the CEO is shared with all new employees.
A two-day onboarding session introduces employees to Ascend's strategic goals and overarching vision, as well as the organization's history and culture. Due to the pandemic, this session now is conducted virtually via Zoom to allow for engagement and interaction among participants. This is a first for the organization; onboarding previously had required that all new employees visit the corporate campus in Tullahoma, TN.
Communication is cultivated as key members of management from various areas of operations participate in group discussions with new employees. From these meet-and-greets, employees learn the organizational structure and points of contact throughout the different business units.
This program also provides managers the opportunity to accompany employees to lunch to develop rapport and ensure understanding of the alignment between their goals and organizational strategic priority.
New Manager Onboarding
The Onboarding Experience for new managers is a three-day program designed to create a link between functional and managerial responsibilities. Whether new to the organization or new to a management role, this program helps these employees align their work with the organization's strategic initiatives.
Executive and senior leaders conduct segments of this now-virtual session to allow new managers the opportunity to gain insight into all areas of credit union operations. The executive team, including the CEO and EVP, hosts a panel discussion, encouraging open lines of communication between these leaders and new managers.
Additional department managers conduct segments of onboarding to expand a new manager's "big picture" view of organizational operations.
Managers review key employment policies with Human Resources to ensure consistent application among the employee population, which ultimately has a positive impact on employee morale.
Post-onboarding, employees are encouraged to share feedback through an evaluation of the experience. Additionally, the facilitator provides participants with an evaluation of their performance in the training session. Employees also complete a 30-day evaluation of the organization and management to ensure initial needs are being addressed. These points of contact provide opportunity for management and trainers to reinforce learning from onboarding and help increase retention. Employees are assigned follow-up training activities through the learning management system (LMS), depending on their new role, to further understanding of applicable procedures, regulations, and policies.
Long-term reinforcement of learning is accomplished through Ascend's 90-day initial employment period evaluations and ongoing quarterly coaching sessions, in which managers and employees meet to discuss areas of success, improvement, and strategic impact. Additional training also is assigned to further an employee's competence.
Results
Onboarding practices ensure employee engagement and satisfaction, which lead to improved employee retention. Results from Ascend's Onboarding Experience include:
Overall employee satisfaction rate of 81.60 percent, above the goal of 81 percent
Nearly 6 percent improvement in the employee retention rate
Member satisfaction rating of 95.80 percent
Outperformed the Return on Assets (ROA) target by 66 percent