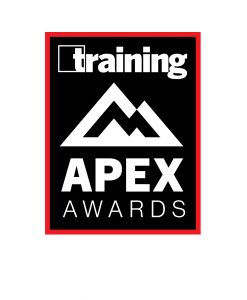 LEADing Self Accelerate is a selective (or nomination) cohort-based program designed to help prepare high-potential individual contributors to be competitive for formal leadership opportunities at the University of Texas MD Anderson Cancer Center. It was designed and implemented to increase the center's rate of internal promotions and development opportunities for select employees at this level to build their career with an intentional inclusive lens.
Program Details
Participants are selected into the cohort with manager approval, plus completion of all three Service Excellence modules, a performance rating of 2.5 or higher (out of 3.0), and completion of three of the LEADing Self core curriculum modules.
Over eight months, participants follow the organization's framework of Learn, Practice, and Apply to both reinforce their LEADing Self leadership characteristics and competencies (Inclusion, Drive, Professionalism, Emotional Intelligence, and Coachability) and grow their LEADing Others characteristics and competencies (Accountability, Knowledge Sharing, and Capacity Building). Broad leadership topics covered include:
Self-awareness
Followership and how to manage up, down, and sideways
Managing change
Managing conflict
Having crucial conversations and influencing others
Managing priorities
Managing people with different productivity styles
This 35-member cohort-based program offers:
Pre-program Hogan Personality Assessments
16 hours of in-class development
14 hours of coaching, mentoring, and sponsorship, including eight meetings with a specifically matched mentor, and five coaching sessions—including one with the participant's manager
10 hours of self-study and reflection activities
Continuous competency checks culminating in a competency demonstration rating from mentors, coaches, and managers
Graduation project (e.g., writing a justification for a new full-time employee position or crafting a development plan for a direct report)
Upon graduation, participants sign up to be formal mentors in the institution through the center's online mentoring platform.
Results
The University of Texas MD Anderson Cancer Center expects most participants to be promoted within a year of completing the program. In the four months since the first cohort completed the program, five of the 35 participants (14 percent) accepted new positions in the institution (three of which were promotions). All participants are being fed to recruiters to be considered for relevant jobs when a position opens. Only one participant has left the organization.
In addition, the center has seen increases in employee career development perceptions. Biennial engagement survey data reveal an increase from 82 percent in 2019 to 86 percent in 2021 in favorable sentiment to the question: "Our organization provides me with opportunities to learn new skills and develop myself."