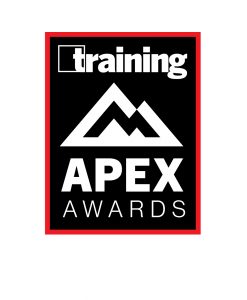 Insurance firm Transamerica needed to create, test, and roll out a program to train 10,000 World Financial Group independent contractor life insurance agents in 2021. The biggest hurdle was to create a new unified selling and training company culture that works for all ethnic cultures and education and experience levels; is easily adopted; and drives agent success immediately. The firm also had to develop a train-the-trainer system requiring minimal training to facilitate, while delivering immediate and measurable selling results
The end result was the Selling Through Curiosity (STC) training program.
Program Details
Working with external vendor partner Barry Rhein and Associates, the STC training program began as a 24-hour pilot virtual instructor-led training for 200 carefully selected participants. Instruction began with the large group, and after each topic was introduced, participants were divided into small breakout groups of six to seven to role-play and practice the concepts. Each session concluded with homework to incorporate immediately.
Through ongoing feedback and program adjustments, the finalized 20-hour program was rolled-out to WFG's top producers. Transamerica began tracking results during the training period to gauge the effectiveness of the program.
Transamerica next expanded the training to front-line managers, WFG's senior marketing directors (SMDs). In order to achieve scale and drive adoption, 1,500 SMDs attended two four-hour live virtual sessions, which introduced the on-demand version of STC and the interactive, immersive training methodology. They completed a new 30-minute online train-the-trainer (TTT) module, and started to train agents on their teams, fully participating in the experience and learning with them.
To achieve scale and put control in the hands of the front-line managers, Transamerica recreated the entire training in an online training platform. It adapted traditional eLearning tools to deliver an interactive, scalable, team-based learning experience. Using the learning management system (LMS), along with a Facilitator's Guide, leaders facilitate the program in a carefully directed and sequenced process that includes playing brief video segments teaching the concepts, and then pausing the playback to conduct practice and role-play, and leading discussions. All supporting materials are provided to equip these leaders/managers to effectively facilitate the content and enable them to provide ongoing coaching for their junior agents. This program is highly scalable, offering multiple calendar options for scheduling adaptability, and is designed to accommodate various business styles and both part-time and full-time agents.
Once learners complete the facilitated training program, Transamerica encourages them to replicate the process and train other agents, thereby also enhancing personal strength in the skills. Agents have continued access to the platform to review at any time. Mailings go out when they complete milestones to keep it top-of-mind. Surveys are built into the process, encouraging participants to reflect on how the training is impacting their activity and results, and more importantly, changing their mindset and behaviors about how they interact with prospects and clients. To maintain the program's momentum, Transamerica plans to host monthly Webinars focusing on one skill per session and driving learners to additional resources. Additionally, the company is conducting leadership sessions to reinforce from the top down how to implement the processes and make them part of Transamerica's culture.
Results
Just over 2,600 agents have completed the training to date. Some 11,000 have started and are in various stages of progress. Through July 2021, agents who completed the STC program outperformed the company average by 20 percent.
This program provides a clear path for scale, duplication, and a cultural shift in training and learning that is leading to more sales and better customer interactions.