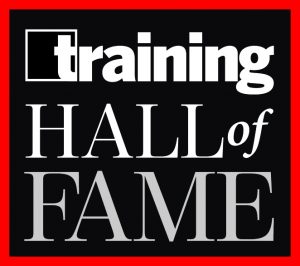 Each year, Training magazine requires all Training Hall of Famers to submit an Outstanding Training Initiative that is judged by each other and shared with our readers. Aside from ensuring Hall of Famers aren't "resting on their laurels," this provides an opportunity for the Learning & Development community to learn from the "best of the best" and see some innovative solutions for challenges many face today.
Each Hall of Fame Outstanding Training Initiative submission could achieve a maximum total of 20 points. Submissions were scored on the following criteria:
Level of potential business impact
Level of difficulty of challenges faced
Project scope
Instructional design
Innovation
Business outcomes achieved/expectations met
The three initiatives that achieved the highest scores are detailed below (Dollar General, Verizon, and Deloitte LLP). The other 14 submissions will be profiled in 2023 print or special focus online-only issues.
DOLLAR GENERAL: DAILY REINFORCEMENT TRAINING
In the third quarter of 2021, Dollar General launched a new training initiative called Daily Reinforcement Training to select employees to help reinforce business-critical topics to fill knowledge gaps, build confidence, and drive business-critical behavior change. Through an artificial intelligence-powered reinforcement engine, employees in the field, distribution centers, fleet, and corporate levels received personalized, daily, question-based learning on topics they encounter on the job. To launch the Daily Reinforcement Training platform, Dollar General first adopted a new, AI-enabled learning management system (LMS).
Employees receive relevant and focused questions daily. These are designed to educate—not to test— and take approximately three to five minutes to complete. Data on employees' knowledge and confidence levels are funneled through an AI algorithm to personalize their individualized learning experiences and ensure the right content is delivered to help fill potential knowledge gaps.
Through this platform, employees and leaders have visibility into individualized skill levels on any given topic. In other words, they can see if team members are experts, have mastered a topic, or if they may need more support. The platform measures knowledge at Levels 1 (recall), 2 (advanced recall), and 3 (scenario), along with confidence levels for all employees. Employees must graduate each level before moving to the next.
Prior to answering daily questions, employees can play a short game where they receive points for correct answers. Employees can challenge each other and compare scores on a leaderboard.
Since December 2021, Dollar General has developed and launched more than 40 reinforcement learning topics on subjects including customer service, store merchandising standards, inventory control, staffing, leadership, performance management, inclusion, and workplace productivity. Employees receiving the training include:
Approximately 7,000 retail employees, including divisional vice presidents, regional directors, district managers, store managers, assistant store managers, lead sales associates, and sales associates.
Approximately 4,000 distribution center employees, including all distribution center exempt employees (supervisors and managers) and all hourly employees in the San Antonio, TX, Fresh and Dry Distribution Centers.
Approximately 300 employees in retail store operations and retail field Human Resources.
Dollar General expanded options for employees to access daily training on multiple avenues such as computers, the Hand-Held Terminal (HHT), and tablet kiosks. Employees additionally have the voluntary option to use their personal device while clocked-in to their shift to complete the training.
In October 2022, Dollar General saw a knowledge increase in every topic presented through Daily Reinforcement Training, as well as a 15 percent overall lift on 12 training topics associated with store cleanliness, stocking, and inventory. This training supports a business goal to increase the internal placement rate (IPR) from 2021 to 2022. As of second quarter 2022, the IPR for fiscal year 2022 exceeded the previous fiscal year by 3.1 percent.
VERIZON: VERIZON CONSUMER GROUP NEW HIRE TRAINING REDESIGN
Verizon Consumer Group Onboarding (VCGO) was created with the goal of training new employees in the Verizon Consumer Group to offer customers an identical experience however and wherever they interact with Verizon. Prior to the VCGO program launch, the different sales and customer service roles within the Verizon Consumer channel had different approaches to learning the same content.
Verizon's new hire training spanned 27,000-plus employees across multiple consumer group channels, including retail sales, internal customer service, and strategic partner channel (SPC) customer service, which operate both nationwide, as well as in many international geographical locations.
Core pillars of VCGO include six customer personas (including Jordan, Verizon's first non-binary persona), a blended learning journey (combining self-paced work, trainer-led interactions, on-the-job support, coaching, nesting, and live practice), and a variety of technologies used to enhance the experience. For example, for internal customer service representatives and SPC agents, technology such as Kryon provides guided system support helping learners navigate transactions as they are working with customers, providing a GPS-type experience for Verizon's billing systems. VZAssist, a chatbot integrated into the billing system, helps users find resources in the moment to emulate production experience while new hires are in the training environment. Sentiment Guidance provides on-screen coaching for soft skills/ performance assurance.
Learners use the Verizon Consumer Group (VCG) sales and customer experience model, called the Consumer Experience Model, to create an omnichannel customer experience and speak in a single Verizon "voice." Online training built in Storyline 360 provides learners a "choose-your-own- adventure" experience. Learners own their actions by choosing the technique from Verizon's customer experience model they would use to respond to the customer persona.
Prescriptive learning is provided during the learner's assessment based on skill level achieved. Learner tools such as My Times, For You, and Tool Time Outs allow learners to create their own learning experience based on self-assessment.
The goal for retail new hire performance is to be at or above embedded base within 90 days of completing training. Retail representatives onboarded in the first six months of 2022 had box productivity (the number of devices a representative sells and activates that connect to the Verizon network) that was 7 percent higher than the embedded base employees at the 90-day mark. In 2021, it wasn't until month five that new retail hires met or exceeded the employee base in box productivity.
DELOITTE LLP: SENIOR CONSULTANT DEVELOPMENT JOURNEY (SCDJ)
The Senior Consultant Development Journey (SCDJ) was developed to deepen the professional and leadership skills of senior consultants (SCs) within Deloitte LLP's Consulting business. The SCDJ framework is based on an assess-create-and-apply development formula that encourages professionals to self-assess their professional and leadership skills, build their development plan along with their performance coaches, and work toward their goals with access to on-demand education and experience opportunities. The SCDJ framework is extended to all senior consultants in the organization by integrating existing programs with the organization's development plan approach as a baseline—some 6,400 of them have gone through the training to date.
While most of the program material already existed, the real ask for the Learning and Development (L&D) team was to weave it into a progressive year-over-year development journey with guides and pauses along the way for reflection and change, as needed. The resulting learning strategy for senior consultant practitioners was designed to help enable them assess their needs by understanding the expectations; creating a holistic, continuous development plan with experience opportunities; and applying their learnings in a measurable environment with ongoing support and mentorship from their performance coaches and project leadership. The following steps are observed in the learning journey approach for senior consultants at year 1, 2, and 3; once the cycle is completed, senior consultants transition to next-level skills and repeat the steps:
Understand the desired behavior
Assess yourself
Create your development plan
Act on your development plan
Share progress
Revisit and plan ahead
Post-program reinforcement tools for the 100 percent virtual and digital program include:
Office Hours (once every quarter): 45-minute open house platforms with subject matter specialists from the business and L&D team to discuss everyday challenges
Blooper Series (ongoing): 25-minute talk shows with leaders across the firm to showcase vulnerability and share life lessons and leading practices
Experience Hub (on-demand): A central hub with ideas on how to contextualize learnings and implement them in everyday behaviors
Common Room (on-demand): Post-program material resides on this one-stop interactive platform
Some 73 percent of performance coaches said they see significant improvement in the senior consultant practitioners' professional and leadership capabilities. Promotion data showed that the year-over-year average promotions from SCs to managers for those who went through the SCDJ is 64 percent, compared to 17 percent in the cohort that chose not to participate.