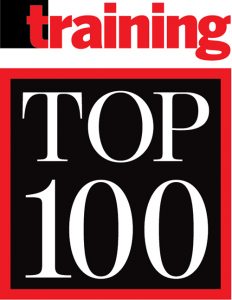 DISH Network's New Hire Evolution project trains newly hired front-line agents in its Customer Experience Organization (CXO). More than 2,000 agents go through the CXO New Hire Evolution program each year.
The program aimed to reduce in-class lecture time, increase hands-on experiential learning, and reduce the cost to onboard new hires. Other goals included improving learner retention, performance, and on-call confidence, and reducing attrition.
Program Details
The CXO Training team redesigned the three-week New Hire Onboarding program to optimize it for a virtual environment and incorporate principles proven to help adults learn. The goal was to evolve the new hire experience to develop self-sufficient, confident, and high-performing agents through interactivity, modeling, and hands-on application.
In the redesigned curriculum, agents spend 67 percent of their time getting hands-on experience with self-paced interactive modules and taking calls alongside their Global Experts (GEs)—a group of advanced agents who help prepare new agents to take calls on their own. Twenty-one percent of their time is spent learning from GEs or their peers, and just 12 percent of their time is spent in lectures. GEs also support agents with the "GET Help" chat tool, which agents use for real-time support while they assist customers.
The self-paced learning modules require new hires to be an active part of their own learning. The material focuses heavily on agents using their tools to find answers to questions and teach themselves. Agents explore content on their own, with trainer support if needed, and take daily quizzes to measure learning. Trainers use those real-time quiz results to customize discussions, address learning gaps, and clarify learning.
Instead of watching GEs take calls, agents go over new content with them, complete activities and role-plays together, and ramp up to taking calls on their own. With New Hire Evolution, agents now take calls five days earlier than they used to, gaining more practice.
What agents learn on day 1 is reinforced throughout the following days' activities to ensure understanding of the concepts. At the end of the two-week training, agents take a final cumulative assessment.
Coaches reinforce learning via one-on-ones during New Hire Evolution. In subsequent meetings, coaches use agents' metrics to identify areas where they struggles and revisit concepts to reinforce understanding.
To make this program possible, the Training team collaborated with teams across CXO, including skill managers, the analytics team to come up with a new quizzing platform that would provide real-time results, and the scheduling team to coordinate schedules.
This program has opened up advancement opportunities for more than just new hires. Now GEs take on more of the training and mentoring responsibilities. This gives them the opportunity to learn facilitation and interpersonal skills that will help them advance in their career.
Results
Agents who went through New Hire Evolution:
Performed 9.1 percent better on their CXM 14 metric (the total time a customer spends interacting with agents over a 14-day period)
Performed 2 percent better on their AVP 14 metric (the value of an account to DISH after 14 days of an agent interaction)
Were 56.7 percent more likely to stay with DISH
Get our newsletter and digital magazine
Stay current on learning and development trends, best practices, research, new products and technologies, case studies and much more.