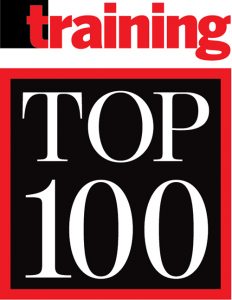 Business services company Transworld Systems Incorporated's (TSI) proprietary knowledge management program, The Source of Information (The Source), is more than just a repository. The entire organization utilizes this on-demand information lifecycle continuously, impacting all employees during foundational compliance and regulatory governance training. Consumer-impacting employees access The Source throughout the day, while leaders tap it for coaching resources and continual development.
Program Details
The Source is a carefully calibrated proprietary program built by TSI's Talent Development and Training Teams (TD) for immediate knowledge sharing. The graphically rich Website features static links; embedded videos; dialog boxes; and a familiar, consistent layout.
The Source provides innovative learning experiences that have a tangible impact on employee effectiveness and the business enterprise as a whole. The synchronous dynamic classroom materials and asynchronous continuous development resources are introduced to employees right from the start of their employment and are used as needed throughout the duration of their career. In line with the philosophy that the most productive employees are those armed with a library of resources and the knowledge to use them, every new lesson delivered at TSI has a parallel resource developed and hosted on The Source for immediate access. New employees begin their tenure by participating in The Source Scavenger Hunts so they can confidently navigate the wealth of resources available to them.
Each of TSI's business units has its own homepage on The Source, allowing employees to easily navigate to the resources that are most important based on role and responsibility. Each business unit portal and client page is, in part, drafted by and fully approved by that business unit's senior vice president of Operations. To date, The Source has more than 400 business unit and dedicated client landing sites, all formatted similarly to maximize familiarity and user engagement.
In addition to the resources available to each business unit, The Source contains a vault of resources supporting the Leadership Capabilities Academies and the newest addition: the TSI Strong Wellness Portal.
Resources on The Source are maintained and developed by the TD Teams but owned and updated by that process' owner. As such, information on The Source always comes straight from "the source." The program mandates that updates are live within two business days. To date, updates typically are being implemented within one business day.
Results
The Source has been the force behind creating a knowledge-sharing culture where learners are empowered to drive their own learning. One specific example of this is found in the student loan servicing business unit, where new hires previously were trained on the client-specific guidelines of each and every client they may service. In 2019, TSI replaced the client-specific lessons with a lesson on the types of guidelines clients generally provide, along with comprehensive tutorials and scavenger hunts to help employees become proficient in navigating The Source. As a result, employees were able to leave the classroom two weeks sooner and business leaders were elated to receive new hires who were more proficient and confident.
The Source knowledge management program is a key component of nearly every client relationship and organizational initiative, including the recent acquisition of two companies. Executive leadership cited The Source as a vital piece of the successful integration of these acquisitions. Resources were migrated ahead of the set target, affording a smooth transition with everything needed for success at employees' fingertips.
In addition, leaders have recognized The Source as a key part of achieving an industry-leading attrition rate of 8.5 percent. The impact of The Source on this achievement is shown in the most recent employee satisfaction survey, wherein 94 percent of employees reported a favorable opinion of TSI's environment and resources.
Get our newsletter and digital magazine
Stay current on learning and development trends, best practices, research, new products and technologies, case studies and much more.