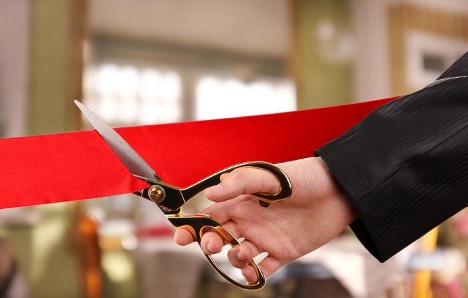 To put it mildly, nonprofit capital campaigns are significant undertakings. Often lasting at least a year (usually several!) and designed to raise millions of dollars, these campaigns can permanently transform your nonprofit for the better.
That being said, reaping such bountiful rewards doesn't come easy. You want your team to be highly skilled and adequately trained for more straightforward fundraising campaigns. Because capital campaigns are so large and complex, this need is magnified to match their scope. These campaigns will require input, support, and hard work from everyone on your team, from your board members to your volunteers. Ensuring everyone's on the same page and understands their role is essential.
Is your nonprofit considering a major campaign or preparing to embark on one? Let's explore how to set up your capital campaign team for success.
What is a capital campaign?
First, let's review the basics. Capital campaigns are major fundraising events conducted by nonprofits roughly once a decade to raise a substantial amount of money that will be invested into capital. Successful campaigns can boost your organization's capacity, enhance your ability to pursue the mission, and improve your recognition throughout your community. Common objectives include investments in new buildings, equipment, staff, and endowments that will help you drive increased impact.
As nonprofits of many sizes and capacities conduct capital campaigns, there isn't a one-size-fits-all funding goal. Your amount raised will vary based on the campaign's objectives and the organization's capabilities. A small food pantry or shelter seeking to renovate its kitchen might plan to raise $250,000, while a prominent university, hospital, or cultural institution looking to expand its facilities might plan to raise many millions.
Given the lengthiness of capital campaigns, they are segmented into a few standard phases. Here's the common structure of a capital campaign: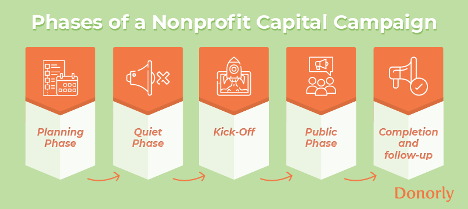 Segmenting your campaign into sections will allow you to focus more intensely on each phase's objectives. It also gives your team a firm organizational structure, which must keep the campaign running smoothly.
The planning phase is when you'll lay the groundwork for your campaign from start to finish. There are several ways to do this, but creating a thorough capital campaign plan is the best. You and your team will walk through all of the phases above and specifically lay out details and goals for each stage. These should include your topline revenue goal, the prospects needed to secure the bulk of that goal, timelines for each phase, communication plans, and more.
Once a group of initial prospects is identified, you'll embark on the quiet phase. These campaigns rely heavily on major donors to provide the bulk of their financial goal during the quiet phase, a time focused exclusively on relationship-building and soliciting gifts from these important supporters. This stage is not open for public participation and relies on your organization's stewardship and development capabilities.
Once the majority of the goal has been secured, the campaign will kick off its public phase, announcing its plans to the broader community and soliciting gifts of all sizes from anyone who wants to help.
Who's involved in a capital campaign?
Capital campaigns are all-hands-on-deck undertakings since their phases and scope touch on nearly every aspect of your operations. Here are some of the parties you should take extra care to identify and prepare for the campaign:
Your campaign chair. This person will be in charge of the campaign's operations. They'll oversee other campaign committees and serve as the campaign's public face. A campaign chair might be a member of your leadership, senior development staff, or an incredibly dedicated board member—ensure that this person has the time and passion for devoting to the campaign.
Your board members. As the stewards of your nonprofit, your board will play a large role in approving campaign decisions. Board members are also typically expected to personally contribute to the campaign and take a hands-on approach to fundraise by leveraging their community connections and publicly representing the campaign.
Your committee members. Led by the campaign chair, your various committees will handle specific aspects of the campaign, like fundraising, logistics, marketing and outreach, and more. They should be made up of a mix of staff, highly-engaged volunteers, and board members.
Your volunteers. These critical members of your organization will help you throughout your campaign. They're particularly helpful during your campaign's public phase by securing donations, marketing the campaign, and running fundraising events.
A fundraising consultant. Especially if this is your first capital campaign, it's helpful to have experts on your side. This is where the services of a fundraising professional can be beneficial. They can support one or many elements of your campaign, such as feasibility studies, donor outreach and appreciation, and event planning.
Besides the players mentioned above, many other parties are involved throughout a capital campaign, such as existing major donors, partners, and other external stakeholders. You'll seek their input early in the process during a feasibility study. You'll use the results of this study to shape your plans to maximize your chances of reaching your goals.
With so many players involved, moving forward as a coherent team is a must. That means putting everyone on the same page and standardizing training from the first planning meeting.
How do you train your team for a capital campaign?
So, now that you know who's involved with your capital campaign, an important question remains: How do we set up everyone for success?
The answer lies in a standardized and detailed training regimen adapted for each role or committee. You should host general information sessions where everyone involved in the campaign's early stages learns its purpose, structure, and responsibilities. Then, host breakout sessions where subgroups can develop their specific skills.
It's up to leadership (the campaign chair and steering committee) to finalize the agendas and dates of the training sessions. They should also play a direct role in compiling training resources and ensuring buy-in. According to NXUnite, numerous online resources and eLearning opportunities are available to train your fundraising crew, so identify the courses and materials you want to use in advance.
Here are some other tips to make sure training goes smoothly:
Lead with enthusiasm and encourage the right mindset. Throughout training and the rest of the campaign, it's up to your leaders to set the tone. Fundraising campaigns can be stressful; by showing appreciation and sharing the transformative benefits of success, a leader can help defuse this stress, leading members to feel empowered rather than exhausted. Clearly lay out roles at different stages of the campaign. As your campaign evolves, your team's roles will as well. Keep your organization members in the loop with monthly check-ins, reviewing new developments and expectations as they come up.
Prepare your board and staff to solicit large gifts. As part of their training, your board and leadership should be prepared to put in time stewarding prospective donors in their networks. According to Donorly, building personal, long-term relationships with your prospects is key to ensuring a donation. Train them to solicit large gifts, build relationships with prospects, and serve as skilled leaders throughout the campaign.
Reduce logistical burdens as necessary to help staff stay focused. Before you announce your campaign to the entire organization, take steps to ensure your workflows, infrastructures, and technology are ready to support the effort rather than slow it down actively. Working with outside fundraising professionals, such as nonprofit consultants or prospect researchers, can help to reduce the overall burden on the organization as your team gets up to speed.
Prioritize consistent, clear, un-siloed communication. Your campaign will only succeed if you keep communication channels open. Emphasize clarity, straightforwardness, and positivity in your training and follow-up meetings for both internal and external communications. Clearly delineate reporting protocols for different aspects of the campaign, and ensure that information and resources are accessible to those who need them.
Training should occur throughout the campaign, starting with the campaign's leaders, key players, and frontline fundraisers in the planning and quiet phases. As your plans progress, be prepared to loop in new teams as their responsibilities approach. Making sure you're putting in your all during planning, training, and follow-up is how you'll energize the campaign and drive it forward.
Capital campaigns are an exciting opportunity to pull out all the stops and celebrate your nonprofit by investing in its future. You'll build robust relationships with your donors, volunteers, and staff.
But you'll need to stretch your internal capabilities to the limits to accomplish these goals. Being prepared and organized is a must, but this responsibility must lie with everyone, not just the campaign's leader. Upfront and continued investments in training will safeguard all the hard work your team puts into the drive and ensure you reach your goals.