There was a time when product cycles could be easily segregated in terms of distinct stages from conception to obsolescence that enabled top/senior management to strategize on a long-term basis with the benefit of slack time that allowed for reflective pause on honest missteps and resolute course corrections without jeopardizing organizational integrity. However, this is no longer the case as the demands and expectations of consumers have significantly changed with the rise of the digitally driven comforts.
Conception is not restricted to a singular idea and has been forced into ecosystem thinking. Obsolescence also has undergone radical interpretation from being end-of-useful-life to end of relevance in terms of rapidly evolving consumer needs and expectations. All the stages in between the two extremities also have had new interpretations, and the overall time to reach obsolescence has been reduced drastically.
This has particularly impacted the services sector, where online and—especially, mobile-driven—commerce is changing the familiar landscape of several industries. Consequently, innovation has become the elixir for survival in the Digital Age. It permeates the whole fabric of a progressive organization that wants to stay relevant and competitive in an increasingly unforgiving marketplace prone to punishing complacency with oblivion.
Perils of Technology
One of the exacerbating factors in promoting divergent employee relations has been the pervasive use of tech-enabled metrics in analyzing the efficiency and effectiveness of performance parameters. Executive decisions increasingly are subservient to the dazzling displays of HR dashboards without heeding the "human story" that results in unfulfilled expectations. Another aspect is the undulating economic environment that has resulted in a large pool of qualified applicants for limited positions who are subjected to the indifferent categorization and filtration of Applicant Tracking System (ATS) software. An even more entrenched issue is the convenience of an online Performance Management System and its impact on relevant training and development activities and the associated succession planning initiatives.
As a result, career progression of promising talent is precariously susceptible to stagnation and/or banishment to corporate wilderness based upon a tired, vengeful, pressured, and/or hurried supervisor's completion of the Web-based performance appraisal form pertaining to an unsuspecting team member. While reparations may be made later, the damage done to employee morale and motivation has a lingering detrimental impact on the Organizational Citizenship Behavior (OCB). Consequently, the perilous allure of embracing such technological solutions as a competitive advantage, without conducting the necessary due diligence on their optimal use increasingly has fueled the infatuation with corporate profits at the expense of marginalizing the innovative capability of the human capital present within the organization.
On the flip side, the dreaded prospect of running out of ideas/options to overcome critical issues is not a daunting challenge for capable leaders due to their knack for creating/facilitating a vibrant culture of innovation that embraces viable solutions from all levels of the organization. Such an approach provides safeguards against the increasing incidences of disruptive innovations that are contributing to the shortening of the lifecycle of excellence as customers/clients continue to exhibit voracious appetites for emerging tech-driven solutions that marginalize existing states of comfort and open the paths to new levels of nirvana. It also helps to overcome the "magnitude of silence" reigning over inquisitive minds that have been stripped of their ability/courage to ask probing questions, as an effective mechanism for germinating progressive thinking and harvesting of feasible solutions, in a stifling management system.
Innovation vs. Strides in Technology
However, care must be taken not to confuse innovation with the strides in technology. Innovation is a cardinal "humanistic" concept that refers to astute application of human ingenuity, whereas technology is a consequential "mechanistic" tool that enables the efficient accomplishment of targeted tasks/assignments/responsibilities. Keeping the "human factor" in prime position while charting the course of a prosperous future in the Digital Age ensures the effective utilization of human capital in congruence with the optimal technological solutions, especially, since innovation often is hijacked by technology posing as its flag-bearer. It is prudent to remember the following equations in the respective context: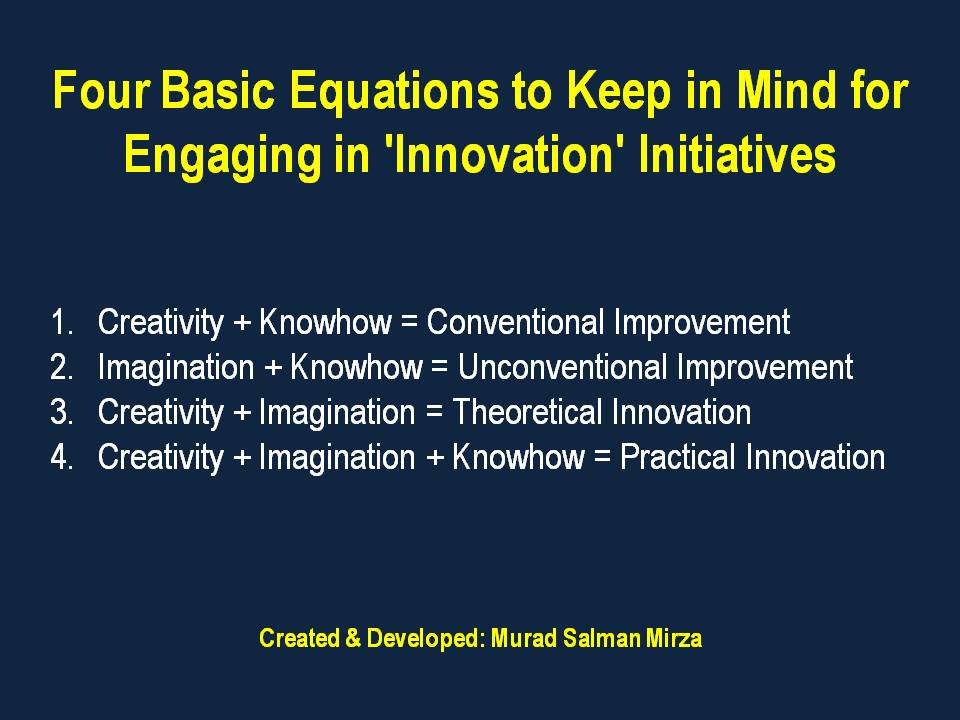 Being future savvy in a digital world requires visionary leadership that is unfazed by current challenges and has the fortitude to take profoundly astute, inherently unpopular, staggeringly transformational, and emotionally draining decisions that are prone to resistance from less enlightened quarters of the organization. It demands the channelization of the innate surviving and thriving animalistic instinct within the disciplined ingenuity of a thinking human mind.
Consequently, one of the key aspects of strategic review within progressive organizations should be the ascertainment of whether there is an inherent inclination for the "need to change" or the "want to change" approach to stay relevant in the digital world. The first one reflects a reactive approach and is a clear signal for course correction before being marginalized by more astute competitors. The second one indicates a proactive approach that signifies a hearty embrace of timely innovation practices for assuring an organization's competitive future with a robust going concern status.
Innovation can be impeded in organizations due to a variety of reasons that may be controllable or uncontrollable. These can be categorized as:
Individual: Nagging doubts, unnerving apprehensions, lack of skill, underutilization, peer/union pressure, Machiavellian mindset, etc.
Team: Personality clashes, conflicting priorities, skill variation, unclear focus, multigenerational work differences, Diversity & Inclusion issues, etc.
Department/Division/Function: Regional/global dispersion, communication gaps, overlapping responsibilities, legacy technology constraints, silo mentality, rampant nepotism, outdated/inefficient processes, etc.
Organization: Size/spread, strategic misalignment, key stakeholder interference (board, shareholder, etc.), dominancy failings (monopoly, duopoly, oligarchy, etc.), spiraling costs, past successes, corrosive organizational politics, leadership succession tussles, etc.
Outside Influences: Restrictive laws/regulations, disruptive competitors, political interference, activist uprisings, import restrictions, contentious litigation, fractured/failed partnerships, etc.
These constraints can be countered by leveraging powerful drivers, such as effective, timely and robust corrective/preventive actions, dynamic management systems, extravagant creativity, unbridled imagination, astounding visualization, astute know-how, positive mindset, unwavering ambition, dogged determination, robust resilience, engaging motivation, synergistic partnerships, calm disposition, prudent negotiation, shared values reinforcement, resource rationalization, invigorating talent management, fair and transparent functionality, impartial accountability, etc.
Customized Ownership and Personal Investment
The path to sustainable success, formidable competitiveness, and continued relevance in a rapidly evolving digital world is paved by productive rebels, rather than insular conformists; therefore, talent management practices need to have the breathing space for free thinkers and trendsetters who are imbued with the change imperative and enrich the organizational aptitude in unconventional ways that boost the core value of innovation effectively. This can be facilitated by inculcating a sense of customized ownership (focused on internalizing the rationale for achievement) and personal investment (focused on triggering maximizing engagement) to galvanize the workforce for achieving demanding goals. Are you ready to take up the challenge?
Murad Salman Mirza is an innovative thinker and an astute practitioner of areas within and associated with the fields of organizational development, talent management, and business transformation. He has lived, studied, and served in different regions of the world, including, the U.S., Australia, South Asia, and the Middle East. His LinkedIn profile can be viewed at: https://www.linkedin.com/in/muradsalmanmirza