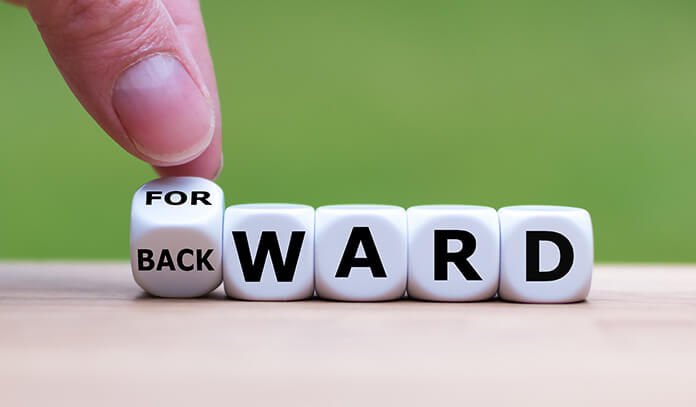 Author Jodi Picoult said, "You can't look back—you just have to put the past behind you, and find something better in your future."
As we reflect on what 2020 had in store for us, and how 2021 began, many have wanted to do just that.
However, I personally found comfort in the past during the pandemic. For me, looking to the future didn't motivate me or make me hopeful as no one knows what our future will look like after this pandemic begins to fade. Instead, I relied upon memories of the past to lift my spirits and make me smile. I would think about simpler times plucked from childhood memories, trips I had taken, carefree outings with friends, and past career accomplishments. These were the things that kept me going and were good for my health and well-being in the moment.
For most, the workforce looks completely different. Some have made their homes into a new office space, while others brave going back into the office covered by a face mask. And, unfortunately, there are those who have to seek new employment.
Now we are faced with asking ourselves: How do we get re-motivated and regain the drive and determination to feel good about our work and personal lives again?
Supporting Workplace Well-Being
More than ever before, the health and well-being of employees must be at the forefront of every business' mind, whether we work from home, travel to an office, or begin to look for something new. Employee well-being is directly tied to business health, which is why it is so important for organizations to optimize their benefits and deliver the right health and wellness offerings for their workers (Hinkle, 2020).
According to an article featured on the BizLibrary Website, there are several ways employers can support workplace well-being:
Digital Well-Being
Walk: Have employees recharge by taking a screen break and incorporating a 10- to 15- minute walk into their day.
Microlearning: Encourage employees to watch a short video that interests them rather than scrolling through social media.
Take a break from meetings: Introduce a "no meeting day" once a week so employees can work on their projects or assignments without interruption.
Emotional Well-Being
Employee/manager check-ins: Establish a regular one-on-one chat to create a culture of support.
Employee Assistance Program (EAP): Promote the use of your company's EAP program. They are free to employees and can help with personal, professional, and family issues.
Mental health resources: Ensure your employees have access to a list of resources, such as therapist names/organizations and meditation and/or yoga classes.
Mental Well-Being
Assess workplace stress: This can easily be done by periodically sending surveys to employees (these can be answered anonymously).
Address issues within the workplace: Based on the answers received through surveys, ensure there is a plan in place to address any concerns expressed by employees.
Physical Well-Being
Standing desks: If it's possible, see if your organization can provide sit/stand desks to employees (whether they are in the office or working at home), so they are able to comfortably continue with productivity.
Gym options: Either provide an opportunity for discounted gym memberships, or if your company has its own in-house health and wellness team, provide online exercise videos employees can follow during a break or their lunch time.
Social Well-Being
Manager training: Provide soft skills training to managers to help them get to know their employees on a more personal level.
Welcoming culture: Make employees feel at home as much as possible, since work (whether in a corporate or home office) is where they spend most of their time. Having friends in the workplace (face-to-face or virtually) helps with social well-being. According to SHRM, 62 percent of people with one to five friends at work say they would reject a job offer to work somewhere else (Miller, 2021).
Pay It Forward
Overall well-being is crucial to our everyday lives. We've had to find new, creative ways to do this—does Zoom ring a bell? Whether you choose to look forward or find comfort in the past, the important thing is to embrace whatever it takes to ensure your health and well-being is intact and pay it forward to those who could use a little help along the way.