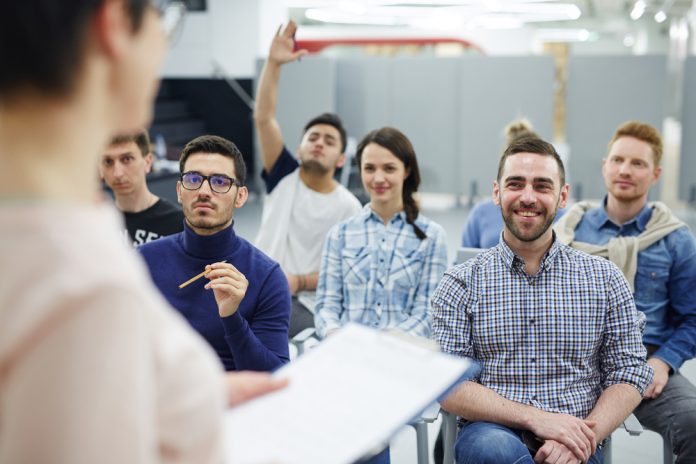 Almost all knowledge workers experienced significant disruptions to their professional lives during the pandemic. Still, customer-facing teams such as salespeople, service reps, and agents faced some of the most cataclysmic changes to their day-to-day roles. Accustomed to holding in-person sales calls, closing deals around a dinner table, and connecting with clients at conferences, customer-facing employees often struggled to translate that face-to-face interaction into virtual settings. But it wasn't all bad; many sales and service professionals found new online ways to connect with customers, prospects, and partners that they'd like to continue using in the future. Now, employers are looking for ways to train and support their customer-facing teams as they emerge from crisis mode into a new normal of hybrid work.
However, old learning and development programs won't work; after all, we know we will never go back to pre-pandemic life. Customer-facing teams will need to learn new skills and competencies to thrive in tomorrow's sales environment, yet most pre-pandemic learning materials are outdated. And how many companies delivered those materials—massive training offsites, sales universities, generic onboarding programs, and roleplay boot camps—will make way for more nuanced, individualized training programs that combine offline and online elements and self-paced and team-centric modules.
So how can employers start on the right foot today to create better sales enablement training programs that will remain valuable long into the future? How can they create learning content adaptable enough to stay relevant in an unpredictable world yet dynamic enough to keep customer-facing teams engaged and successful? The answer is that companies must first build a learning architecture and then scaffold different types of content on top of this structure in complex and individualized ways.
What is learning architecture, and why does your company need one?
A learning architecture is a functional framework that is not all that different from building architecture. It is a structural foundation on which a corporate learning program is built. Represented as a single visual flow, a learning architecture helps an organization battle the complexities of information and content. It creates a flexible structure that provides individualized training experiences to each employee when they need new skills or knowledge, resulting in maximum skills mastery, employee engagement, sales outcomes, and customer success.
Building a learning architecture can be pretty involved, and companies may need to hire consultants to help create successful structures. But there are a few steps every company can take to begin mapping out a learning architecture that will deliver great training experiences to employees and grow alongside the organization for many years to come.
Scope it Out and Work Backwards
Every learning architecture starts with a business deciding on a scope of no more than three (and many times, just one works!) desired measurable outcomes and then working backward to build a strong foundation for the content and delivery mechanisms needed to achieve those goals. These goals are specific and unique to each company. They could include anything from "newly onboarded sales reps gain the ability to close a single deal over $100K within three months" to "customer success team members ramp to solve client issues 20 percent faster."
Develop an Experience Map
Once a company has identified three critical goals for its learning program, it can begin building an architecture piece-by-piece to attain those goals. The first part of the architecture is the experience map. This visual representation of exactly what you need to develop, the expected content dimensions in minutes or pages, the flow from step to step, and the incremental objectives at each stage that accrue to the desired outcome. If the learning architecture is the framework, the experience map is the action plan. The experience map should visually show learners the entire training process from start to finish, how long each module will take, and how it will be presented (online, in-person, in teams, etc.), and include regular checkpoints to measure understanding.
Develop Content to Fit the Framework
Once you have identified your three key goals and built an experience map, it's time to create the content to populate those models. Work backward from your three key objectives to determine what learning content your teams need, and then develop pieces and types of content that fit your experience map. Instead of static documents and long courses, create short, engaging components that are easy to consume and retain and immediately help learners make headway toward the goals in the architecture. What content does a newly onboarded sales rep need to learn to be able to close a $100K deal? Do they need to understand the deep technical specs of a specific product, or rather a high-level view of the entire product line?
Learning architectures are a new way of thinking about skills and sales enablement training for your customer-facing employees. A learning architecture is flexible instead of cramming a career's worth of knowledge into your team over a three-day event. It can be updated with new content modules over time. An architecture provides a personalized, easy-to-update, long-term roadmap for each employee, from onboarding and ongoing development to mastery and upward career progression.