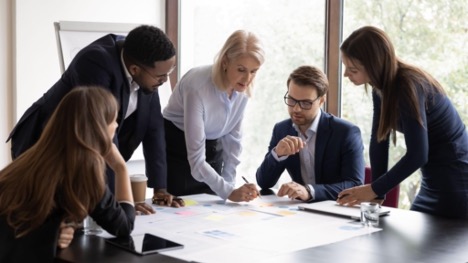 Businesses around the world are searching for innovative solutions to help improve efficiency. While there are many high-speed production solutions available via technology, investing in employee well-being continues to be paramount for high productivity.
Let's look at six ways you can drive better productivity from your employees.
1. Empower Remote Work
The pandemic has caused seismic changes in attitudes toward work. Perhaps the most impactful is that people are less keen on working from an office. A 2021 survey showed around 81 percent of people no longer want to work in an office or would prefer to work in a hybrid system, where they are in the office part of the workweek and work remotely the rest of the week.
Although many employees have switched gears toward remote work, it comes with its own set of challenges. Employing more remote workers can make maintaining clear communication, a sense of being part of a team, and employee engagement more difficult.
It's important to hold online meetings to share ideas and updates on progress. Everyone should feel like they're part of the team and that their input is valued.
Around 20 percent of people surveyed said they feel isolated when working from home. So, it's important to make employees feel connected even when you don't meet in person.
Messaging software like Slack or Microsoft Teams helps managers and teammates communicate and feel heard.
Hosting virtual meetings and happy hours through Zoom or Skype, engaging remote employees in a wellness program, and utilizing gamification can all foster overall well-being and help with productivity.
2. Develop a Great Onboarding Experience
A good onboarding process can increase productivity by 70 percent. This points to the benefits of a great onboarding experience.
Here are some ways to improve it:
Make the onboarding experience easy to follow
First-day nerves are common for new hires, and some will be reluctant to ask questions.
It can also be easy for people to forget information if they are bombarded with details. Try to keep onboarding as simple to digest as possible, and back up anything you tell them verbally with written, pictorial, or video instructions. This will help make the information easier to absorb.
Using tools like infographics can communicate training in a fun and effective way.
Make it personable
Try to keep the experience as human as possible, even if the new hire is remote.
Make recruits feel welcome by introducing them to team members and walking them through online software and forums. If in person, personally show them around the facilities.
The faster they feel comfortable, the sooner they will become a productive contributor to the organization.
Check back in
Onboarding doesn't mean you just show somebody around and then leave them to fend for themselves.
It's important to check in with new hires to see if they have any concerns or questions. Schedule regular interviews with new recruits to keep updated on their progress and allow them to share their thoughts.
Starting off on the right foot is key to maintaining good employees and amplifying productivity from the beginning.
3. Ensure Clear Communication
Employees need to understand what's expected of them. Communication is vital. Using internal communication tools to engage employees can help boost morale, make your goals known, and enhance productivity.
Being transparent about your company's vision, ethics, and goals will help employees understand their own objectives within the company.
Your employees are the ones on the front line. It's important for managers to be accessible to employees to foster efficiency and align goals with performance.
This means more than conducting a formal review, but setting aside time to communicate one-on-one with different employees each week.
4. Encourage Employee Wellness
We can't force employees to use a gym and eat well, but we can try and encourage exercise and a healthy diet by making them available.
Give employees access to fitness software and help them engage with teams in friendly competition. Offer healthy options in the breakroom or fun healthy eating challenges.
Hosting wellness events and mindfulness classes can help encourage healthy lifestyles. When employees feel well, they are more engaged, energized, and productive.
5. Facilitate Team-Building
Team-building is crucial for good communication, employee engagement, collaboration, and overall productivity.
Connecting with teammates on a personal level will help people communicate better. Team building experiences don't have to be extravagant. They can range from office trivia, community service, lunch outings, or parties.
Utilize external sources like private social media groups to network, collaborate, or just post funny memes. Social media marketing can also be used to gain traction and excitement for your company, helping you gain new talent.
Fostering trust and loyalty among teams rather than unhealthy competition will help your employees be more engaged and productive.
6. Act on Employee Feedback
Gaining employee feedback through surveys, interviews, monthly or yearly reviews, meetings, or a suggestion box will assist you in gauging their overall work experience.
Acting on employee feedback will help your business run smoothly, but that's not the only reason to take action. Helping employees do their job better will help you gain their loyalty and increase their productivity.
You don't have to act on every suggestion but consider all feedback and act upon legitimate points that will create positive change. Actions may require financial investment, but it will likely be worth it if it improves productivity.
If an employee ever feels the need for more training, invest in it. Continued learning can boost employee mood and help them be more productive. U.S. companies lose up to $550 billion annually due to unhappy employees.
Listening to employees and creating a work culture that shows it values those who work there will help you retain talent and get more done.
Give Your Company an Edge Over Competitors
The more enjoyable the work experience is, the more likely employees will be productive and content at work.
Ensuring a good employee experience will also help you attract the best talent and retain the talent you already have.