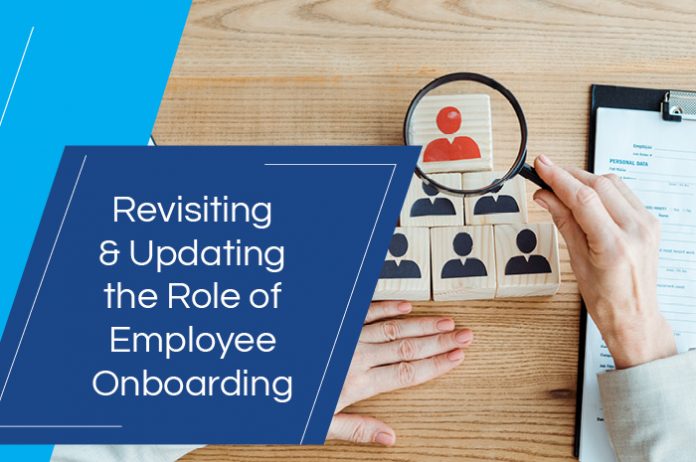 The onboarding process sets the tone for an employee and employer relationship. After a positive recruiting and hiring experience, the onboarding process lays the foundation and helps the employee start the employment relationship on a positive note.
If your organization has not revisited your onboarding process in recent years— especially if not since before the COVID-19 pandemic— it is essential to review your practices and ensure they are setting your employees up for success.
This guide will discuss the importance of effective employee onboarding and cover tips to help you update your approach.
The Importance of Effective Onboarding
While always important, effective onboarding is essential at this point for a few reasons noted here:
Organizations are experiencing an employee-driven job market. Job opportunities are abundant, and the competition for top performers is fierce. An onboarding process that engages new hires from pre- to post-hiring will help engage employees and play a key role in improving employee retention over time.
Many organizations are currently operating in a hybrid or even fully remote environment. It can be difficult for new employees to integrate into an organization's culture from afar. However, the many touchpoints in an effective onboarding process can help ensure new employees feel welcome and part of the team, even in a non-traditional environment.
Updating Your Approach
The candidate-driven market and new work environment have highlighted the importance of a robust employee onboarding process.
 The focus of onboarding has shifted. At one point, onboarding was a combination of:
Pre-employment paperwork
A few hours of orientation on the employee's start date for:

New hire package and required sign-offs
IT hardware and software set-up and access
Review of the Employee Handbook
Meetings with managers and team members
Now, however, onboarding is a multi-month process that focuses on all the activities mentioned above, plus a longer and more meaningful process that serves to equip new employees with the tools they need to do their job and set expectations so they understand and can be effective in their role, and assimilate the new employee into the company culture by creating and fostering a sense of belonging and offering support.
 To meet these goals, onboarding best practices include the following:
Introducing the new employee to members of their team and other teams across the company.
Providing training to assist the new employee in their role and informational sessions about other teams and how they are interrelated.
Incorporating the new employee into your organization's culture. This could look different for different organizations depending on their culture; for example, it could mean periodic sessions with senior leaders, mentoring programs, and regular team-building activities.
Ongoing and regular check-in meetings with HR and the new hire's manager to discuss the employees' experience and ensure any questions or pain points are being addressed and resolved.
 When updating or developing a new onboarding process, ask the following questions:
Are onboarding processes addressing remote workers, and how? Specifically, consider how you will facilitate introductions between remote employees and assimilate employees into your culture from a distance.
Is your technology adequately supporting employees' needs? Consider whether there are any gaps in your current technology solutions or if there are any solutions that are hindering employee productivity rather than supporting it.
How can you streamline the onboarding experience through better planning and/or technology? For example, to avoid overloading the new hire with instructional sessions on a specific timeline, are there ways to incorporate self-guided learning to provide greater flexibility? Or, would it be helpful to include some live-chat technology so remote employees can quickly reach their colleagues when questions arise?
Consider surveying current employees onboarded, those onboarded in the last year, and that onboarded pre-covid to help inform the changes you plan to make to the process.
Who should participate in your updated onboarding approach?
Now that we have discussed how you can update your onboarding practices consider the role that HR and others should play in the process.
Onboarding is far from a process conducted by HR alone. While HR or an operations leader will generally create the onboarding process and coordinate the implementation, several people in the organization should play a role:
HR will coordinate the process from the point of job acceptance through the start date and beyond. This will include coordination with payroll, benefits, and IT to ensure immediate needs and follow-up questions are being addressed.
HR will coordinate with the hiring manager, but it is the manager's responsibility to maintain regular check-ins and touchpoints with the new employee to ensure understanding and support. The hiring manager will also be responsible for internal team introductions and team meetings.
With HR support, the hiring manager will want to ensure that the employee is getting the proper training, whether from an internal training department or through outside training providers.
HR can also help coordinate a rotation of department heads to present at onboarding sessions. This may include leaders from various departments who will provide new employees with different perspectives on the business. In addition, whenever possible, new hires should have the opportunity to meet members of the senior leadership team formally. This time commitment from leaders sends a message to new employees that management cares about them, their contribution, and their success in the organization.
In summary, there has been a significant shift in the workplace requiring that employers consider how they attract talent and how they welcome and assimilate new employees into the organization. Therefore, the importance of a robust onboarding process has never been greater.
The focus should be on expanding your onboarding practices from a check-list mindset to a more organizationally and culturally well-rounded introduction to your company. Lastly, remember that HR alone is not responsible for onboarding. Loop in multiple teams across your organization to maximize the potential for a meaningful and successful onboarding process that helps to support and engage your new employee.
Consider working with an external HR expert to help evaluate your current onboarding practices to better align with your organization. You may want them to thoroughly audit your recruitment, onboarding, and training techniques to assess how they work together and how you can improve your practices and processes.