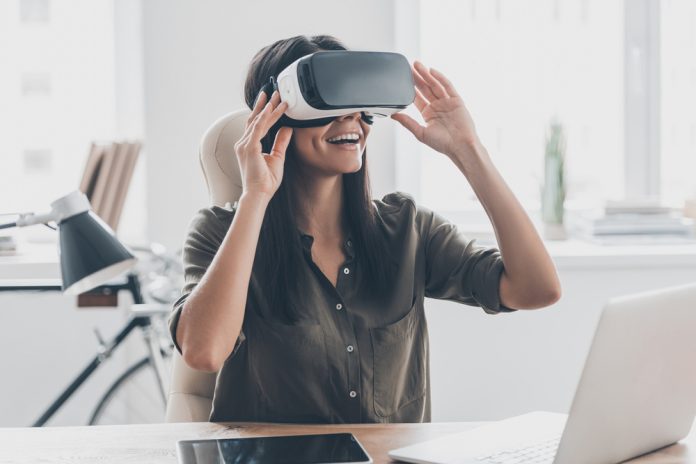 One of the biggest shifts we have seen in the business landscape is the way companies hire new talent. As remote and hybrid work environments become the norm, companies are making their work cultures more globally diverse and flexible. As a result, human resources (HR) managers and recruiters must adopt innovative recruitment practices such as conducting virtual interviews and onboarding training.
One of the latest innovations is using machine intelligence, such as virtual reality (VR) to transform recruitment and training. This article will explore how organizations use VR to recruit, onboard, and train employees so businesses can better understand the pros and cons of using this technology in recruitment.
How to adopt VR in recruitment
VR is making great waves in the recruitment industry. Numerous companies now use this technology to enhance the candidate experience and show them that the company is on the cutting-edge of innovation.
As with any digital transformation, you will want to consult with experts when implementing your virtual recruitment strategies. Consider hiring a freelance developer with experience in digital transformation or machine intelligence. You can expect to pay between $60 to $100 an hour for a quality backend freelance developer, but you will save a lot of money over hiring a consulting firm or in-house staff.
Here are some of the ways companies can incorporate VR techniques in their recruitment strategies:
Build skill-based games
Virtual gamification uses virtual scenarios for talent development and assessment of prospective and current employees. Playing virtual games is a highly engaging learning experience for users. It also shows companies which candidates' skills are suitable for which roles and offers candidates a chance to gain a deeper understanding of their own personalities and strengths.
As one example, Jaguar has launched a mixed AR and VR reality app where users can experiment with electric vehicles and crack code-breaking puzzles. These games test the users' problem-solving skills, capabilities, and ability to respond to challenges. Players that perform well in the games are then tracked through the recruitment system.
Let candidates experience office culture remotely
With virtual recruitment, it's not only challenging to assess the strengths of candidates but also to help them get a feel for what it would be like to work for the company. It's in the best interest of the applicant and the company that prospective employees understand the company culture and think they would be a good fit. VR is one way to get the applicant acquainted with the office without requiring an in-person visit.
For example, the Walmart-owned shopping platform, Jet.com strives to improve its work culture and make it more collaborative and engaging by creating a "show, don't tell" experience. This is made possible by VR interactions that allow applicants to experience the company culture wherever they are and glimpse what it would feel like to work for the company.
Offer on-the-job experience
The most significant benefit of using virtual reality in recruitment strategies is its ability to provide candidates with on-the-job experience. Recruiters can combine traditional recruitment methods with virtual reality to have an immersive assessment of a candidate's true talent.
Many sectors like healthcare, aviation, and military have stressful situations that candidates should prepare for. Virtual reality makes it possible for recruiters to assess employees' skills in a virtual scenario to see how they navigate challenges. With this tech, applicants can use a Gear VR headset to test their tank driving, parachuting, and mountaineering skills. They can also try their hand at experiencing combat training.
Benefits of deploying VR technologies in recruitment
Virtual reality helps HR strategists save time and find reliable talent, leading to greater efficiency in hiring. It can also set the tone for innovation and flexibility in hybrid/remote collaboration as part of a company's ongoing effort to build stable, happy remote teams.
Some ways that VR can be beneficial for companies are:
Ensure safety for dangerous situations
Workplace hazards are not uncommon in many industries, and you should be doing everything possible to make employee safety a pillar of your work culture. Dangerous scenarios that require extreme precautions can be explained in classrooms via textbooks, but it has so far been quite challenging to give applicants a practical demonstration of those situations. VR can make exposure to atypical scenarios reasonably easy, making it possible for learners to use their critical thinking skills and make decisions under pressure without actually being at risk.
VR training allows candidates to replay their actions in a simulated environment and learn from their mistakes. The aviation and healthcare industries are among the first to incorporate VR rooms into their systems, making for a more efficient and highly skilled workforce. Overall, this is also a great option for remote teams as companies adapt their training plans to remote operations and hybrid work.
Increase the efficacy of candidate screening process
Virtual reality training makes it possible for hiring teams to speed up the screening process and filter out candidates that may not fit the appropriate roles. Instead of manually recording and reviewing interviews and CVs of candidates, virtual reality can provide a controlled environment allowing the candidate to showcase their abilities in different situations. This extends well beyond a resume and can also show how confident and skilled a candidate is in real-time.
The downsides of VR
While VR has numerous benefits for companies and consumers, it can also open the doors for some malicious attacks. The nature of VR privacy attacks is highly personal – attackers can steal users' fingerprints, audio, and face geometry scans and use this data to act as an imposter.
Perhaps the worst security threat with using VR technologies is deep fakes. Deep fakes are artificial intelligence scams that replicate digital content to replace the original content. For example, by manipulating videos and audio of people, malicious attackers can hack genuine footage and use data from a VR headset to create a digital replica. Attackers can then use this data to carry out massive-scale social engineering attacks.
In order to prevent VR from introducing new attack vectors, companies must audit their security systems and take all possible steps to protect users. For one thing, a VPN, combined with other tools for remote security, is necessary to keep your employees and your applicants safe when using virtual recruitment.
According to Toronto-based cybersecurity expert Ludovic Rembert of Privacy Canada, VPNs effectively secure your online communications thanks to their robust encryption protocols:
"A VPN protocol determines how your data gets routed between your machine and the server," says Rembert. "Different protocols have different costs and benefits depending on what you need. For example, some prioritize privacy and security, while others prioritize speed – so VPNs pair SSLH technology with TLS or Transport Layer Security. TLS works by creating a secure connection through symmetric cryptography. In this cryptographic method, a unique key is created for each connection session."
Wrapping Up
If you want to be at the forefront of deploying virtual reality in your recruitment strategies, these insights can offer a starting point for your business. By incorporating these techniques, you are bound to see your talent score rise, resulting in happier, more productive employees and elevating your business to the next level.